Special Olympics returns to campus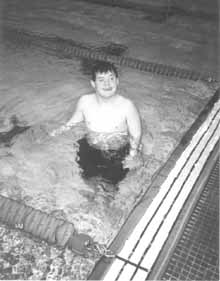 The College of Education and the Department of Campus Recreation will be hosting the Special Olympics again this year.
The swim meet will be held at the pool in Albright Health Center March 2.
Carol Ryan, interim chair of Elementary, Middle, and Secondary programs, said the meet is named the Dale Lawver Memorial Swim Meet, in honor of a late professor of special education.
Ryan said that this is an invitational meet that is to prepare the Special Olympians for the state swim meet in June.
Ryan expects five to 10 teams from around the state to be present at the meet on March 2.
Last year, Ryan said there were 90 athletes, consisting of eight teams.
The ages of Special Olympians range from eight, the minimum age to participate, to about 30.
There are a wide range of disabilities that are represented at the swim meets, Ryan said, including Down Syndrome and autism.
"To be involved in Special Olympics, they have to be cognitively disabled," she said.
Ryan said individuals in her Adapted Physical Education class serve as volunteers.
Professor Kim Code also offered students in her Introduction to Education class the option to volunteer and write a two to three page reaction paper in lieu of doing one of the assigned written analysis papers.
Ryan said the majority of the volunteers that come out of her Adapted Physical Education classes are aspiring physical education teachers.
It is important for teacher to gain this experience because there will likely have students with disabilities in there classrooms due to school inclusion policies, she said.
With the inclusion policies, Ryan said students with disabilities can "participate with their non-disabled peers."
Ryan said the Department of Campus Recreation is extremely helpful.
"They provide facilities, lifeguards, and general help and training."
Ryan said in addition to hosting the swim meet, NKU also trains a team.
She said they practice on Saturday mornings at the Albright Health Center.
She said her class members serve as volunteers to help and train the team.