Norse finish up 19-7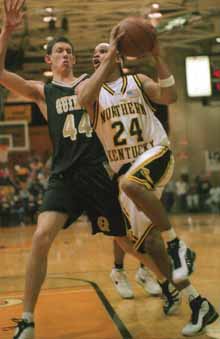 Molly Corfman
The Northern Kentucky University men's basketball team played hard core defense late in the game and held off Quincy (Ill.) University 79-75 Saturday at Regents Hall. The Norse finished the regular season with a 19-7 record, 15-5 in the Great Lakes Valley Conference.
"We made plays down the stretch. We finished it off," NKU senior guard Craig Sanders said.
Sanders, who was one of two seniors playing his final home game, scored 22 points, including five key points near the end of the ball game. NKU was down by four points with three minutes left. However, the team went on a 12-4 run to end the game and win by the final four-point margin. The Norse had an early nine-point lead, 49-40, in the second half. The Hawks stayed right with NKU the rest of the half but could not hold off the late charge.
"We shot pretty bad today but we hit big shots at the end," NKU senior forward Carl Mitchell said.
Mitchell had another big game for the Norse, scoring 17 points, including 3 three-pointers in the victory. He added eight rebounds and three blocked shots. Freshman Mike Kelsey chipped in 14 points and junior Darnell Fields finished with 12 points and 12 rebounds to help NKU to the victory.
Cory Cummens and Brian McNeil each contributed with a team-high 15 points for Quincy, who is 7-19 (4-16 in the GLVC). Jackson Jones also scored 14 points and grabbed a game-high 13 rebounds. The Quincy game was also "Senior Night" to honor both NKU seniors and their incredible careers. They are both glad with what they have accomplished as a Norse basketball player.
"It's been very different. It was hard to adjust but I took it okay," Mitchell said about his NKU experience. "I've got to know coach Shields and the other coaches."
Sanders added, "I have no regrets. I am glad with the position I was in." Sanders, who has now scored 1,976 points in his career, went on to say that the home crowd has always been great and he liked the Regents Hall gym he played in.
"Everybody talks about a bigger gym, and ours is like a high school atmosphere. It gives us a great tone," he said.
NKU next heads on to the GLVC Tournament in Evansville, Ind. at Roberts Stadium. The tournament starts this Thursday, and the Norse will be the No. 2 seed. NKU knows that they will be ready for the tournament, because they are ready and fired up for everyone they will compete against.
"We're charged up for the conference tournament," Sanders said. "If we would have lost one of these last two games, we would have had to replace it."