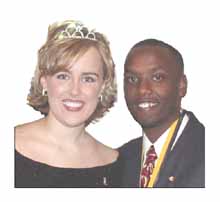 Changes have marked this year's Homecoming court at Northern Kentucky University.
The changes include an African American being crowned king for the first time, and also the responsibilities of the king and queen have been expanded.
Four organizations nominated a male African American and the student body elected him to the court. Carleon Robinson, Sr. won the honor of being NKU's first African American Homecoming king for 2002.
Also the Homecoming king and queen will have the obligation of speaking at Black and Gold Day, Freshfusion and assisting with the Student Organization Celebration.
"Anytime we need a student face or voice at an event," Tiffany Mayse, student life coordinator, said, the Homecoming king and queen should be there.
This year's king and queen were selected based on campus and community involvement, grades, a two-page essay, honors and awards, poise and interview skills.
Any organization may nominate a candidate or students may nominate themselves.
Candidates must be full-time students with junior or senior status and a cumulative grade point average of 2.75 or higher. All candidates are required to fill out an application, and this year had to submit a two-page essay double-spaced about "Bringing Back the Thunder to Northern."
"As a minority scholar, role model and respected leader of Northern, I feel that I have brought back the thunder to Northern by breaking barriers and crushing stereotypes to diversify predominately white organizations," Robinson wrote in his essay.
An election by the student body narrowed the field down to 10 finalists that made up the court. A selection committee consisting of: Carol Beirne, assistant director of Alumni Affairs, Dr. Russ Proctor, associate professor of communication, Gennie Brewer, orientation coordinator Office of Admissions, Michelle Peterson, director of American American Student Affairs and Ethnic Services, Karen Ogburn, associate dean of Chase College of Law, Lee Whitley, 2001 Homecoming king, and Jennifer Surgalski, 2001 Homecoming queen, choose the king and queen.
"I was real excited when the student body votes came in and I finished in the top five, and I knew that I was going to get to walk on court," Leslie Dorris, 2002 Homecoming queen, said. "I didn't care if I won or lost."
Dorris is president of Delta Gamma Sorority and executive vice president of NKU's Student Government Association. She is also a member of the Order of Omega, Team NKU, NKU Ambassador Team, Norse Force and the Speech Communication Club. Delta Gamma Sorority, SGA and the Speech Communications Club nominated Dorris for Homecoming Queen.
"I was very, very honored," Robinson said. "I think it would help out the diversity at NKU and also to be able to be a role model for other incoming African Americans."
Robinson is a member of Omicron Delta Kappa and Phi Beta Sigma fraternities; he also belongs to Norse Leadership Society, Student Alumni Association and serves on the judicial council of SGA.
"I think it is wonderful that we have someone to represent the African American population here on campus," Dorris said. "I know that he was very proud of that. I was happy to see him rewarded for all the work he gives to NKU."
Robinson was very proud to be recognized for his achievements. "If you try very hard you can achieve it. It's not always a race thing or a gender thing," Robinson said. "Do what you have to do and excel."