24 hours of hoops benefits St. Luke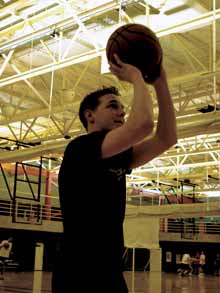 Scott Wartman
For 24 hours, students shot hoops in the Albright Health center as Alpha Tau Omega (ATO) fraternity hosted another annual basketball marathon over the weekend, making it the 11th year in a row. At twelve o'clock on Saturday students began playing and the court was full until twelve the next morning.
The event raised around $1,000 for the St. Luke Community Foundation. St. Luke has many partnerships under its belt with NKU in areas of academics as well as special events, such as the basketball marathon. According to Janice Way, public relations director at St. Luke Hospital,the proceeds went to benefit pediatrics last year and this year the money will be put into a general fund to be used where needed.
"St. Luke is extremely appreciative of relationship with NKU,"said Way. " NKU is a high quality university who's very interested in the community."
Following the tournament there was a 3-point shooting contest, as well as games like dodgeball and kickball.
Adam Robbens, social chair of ATO, said the event was a great way to help a good cause.
"Not only are people having fun attending the event, but it is also beneficial to the community and the children of St. Luke," Robbins said.