Seven starters return for baseball season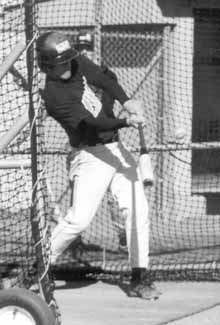 Brittany Contois
The Northern Kentucky University baseball team had an impressive showing last season, advancing past the second round of the Great Lakes Valley Conference Tournament and finishing with an overall record of 38-21.
The Norse has the confidence that they can do even better this season and have higher expectations for the upcoming year.
"We got everyone back and we have good starting pitching. We are looking to build on from last year," NKU head coach Todd Asalon said.
"We would like to win the conference tournament and host the conference and regionals," NKU senior catcher Jason Martin said. "We have a great core of guys to help us win some ball games."
The Norse return seven starters from last season's team, including Martin, who collected a school-record 81 hits, drove in 53 runs and had a batting average of .397 last year.
"Jason is our main guy in the middle of the line-up. He is our catalyst," Asalon said.
Martin was honored for his accomplishments by being selected to the NCAA Division II All-American third team last season.
"A lot of that comes with the team winning," Martin said about his individual performance. "I'm not concerned with last year, I'm looking forward to winning ball games. If I do good, everybody is going to do well."
Another player returning from last year's core group is NKU senior first baseman Steve Walton, a second team All-GLVC selection. Walton hit eight home runs and boasted a .356 batting average. The Norse has a total of eight seniors returning on the team.
Among some of those players are senior third baseman Patrick Eschan, who had a .250 average and 11 doubles last season, senior Beau Brake (.316) and senior center fielder Justin Rahschulte (.288 average).
"Good teams have good seniors. We hope they carry us far," Asalon said. "They are a little bit stronger and stronger. Experience pays off and they will step up for us. We'll go as far as they can take us."
Asalon went on to say that he likes to pay attention to his seniors, because they are a really special group and they are the major workhorses of the team.
"We have five senior position players and two senior pitchers. Experience is not a problem," Martin said. "We have played for so long and we know what each other can do."
As for those pitchers, NKU welcomes back senior Lenny Bays, who posted an 8-2 record and had a 3.17 earned run average last season. Bays threw 80 strikeouts and was named to the All-GLVC second team.
Senior pitcher Josh Whaley (8-4, 3.68 ERA), sophomore Chris Unkraut (4-0, 4.22 ERA) and relief pitchers senior Joe Nash, junior Sean Leonard and sophomore Shane Gordon will factor into the pitching crop this year too.
"It all starts on the mound and we have great pitching. We have three senior pitchers. Bays and Whaley are our one and two starters and Nash is pitching in relief," Asalon said.
According to Martin, pitching and defense will definitely be keys to the Norse success this year. "Our pitchers will throw strikes and our defense will help take care of them. Our offense will score plenty of runs, but our defense and pitching will be the key to winning."
The NKU baseball team also has a lot of newcomers that have been added to the roster this season. Freshman Richie Jones and sophomore Lewis Jones will play in the outfield.
Pitcher Brian Lakes, a transfer from Bethel (Tenn.) College, will be in the starting rotation.
Also, freshmen Andy Bright, David Clutter, Jim Deller, Matt Dolan, Brandon Evans and Keith Jackson will provide some help to the team too.
"We brought in a group of freshman, and we hope they gel together. We will have a pretty successful season if that happens," Asalon said.
Martin added, "The new guys have talent.
The upperclassmen need to teach them what we know. The underclassmen need to come ready to play."
But it is all about winning for the Norse. Along as the players do what they are capable of doing, the team can go far this year.
"We beat teams in the top 25 last year. We need to play tougher for the conference games. We have to come to play everyday, and we hope it will pay off," Asalon said.
With an even tougher non-conference schedule, which includes games against the University of Tampa and Miami (Ohio) University, NKU has to prepare itself for every challenge that faces them.
And hopefully the Norse will be able to go deep into the NCAA Tournament.
The NKU baseball team begins its season this Friday on the road against Carson-Newman, a team that is ranked 23rd in the NCAA Division II poll. The game starts at 2 p.m.