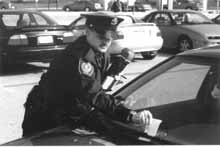 Tim Downer
Northern Kentucky University's Department of Public Safety has implemented a racial profiling policy in conjunction with the Kentucky State Police Department.
Due to an increase in media coverage of racial profiling of minorities by police officers during traffic stops, the State of Kentucky required all police departments to submit information of traffic stops.
On July 25, 2001 DPS was notified that it had 180 days to submit a racial profiling policy to the state.
"Every department has to have a policy in place, we have our prohibition to racial profiling in place," said Jeff Butler, director of DPS.
The policy states the purpose of DPS, which is to "protect the constitutional and civil rights of all citizens with whom NKU police has contact."
The policy defines racial profiling as "stopping, detaining or other enforcement activity based solely on an individuals actual or perceived race, ethnicity, gender, or other characteristic."
Butler said the new procedure is only slightly different than before.
"It's a state mandate," Butler said.
Butler said officers have to fill out a form every time they pull someone over.
He said they have always recorded information such as sex and race of anyone they stop.
"The difference is now the information is being centralized and analyzed. The purpose is to record and analyze this information and make sure that a particular group is not being targeted," he said.
The policy also clarifies the subject of searching.
According to DPS, a search is "any physical search (of an individual) by a law enforcement officer. Search does not mean a physical inspection of a motor vehicle."
Butler maintains that DPS officers practice the procedures stated in the policy that place the constitutional and civil rights and the safety of the individuals as their top priority. "I am confident that we are not negatively impacting anyone," Butler said.
Of the 16 DPS officers, 13 are white males, making the non-white male ratio about 20 percent.
Any officer who violates the policy shall be subjected to departmental disciplinary procedures.