Sodexho charged with unfair labor practices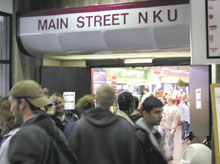 Scott Wartman
Before attending a union meeting at the end of last November, Rorrie Vicers and Pam Welch said they were content in their jobs as caterers for the food-service provider Sodexho at Northern Kentucky University. After the meeting was over, both said their jobs got increasingly harder to bear, eventually leading to a permanent layoff.
The Hotel Employees and Restaurant Employees Union (H.E.R.E.) last week filed two unfair labor practice charges with the local National Labor Relations Board against Sodexho, on behalf of the two former employees
H.E.R.E. alleges that Sodexho management at NKU dismissed Vicers and Welch on Dec. 22, because they attended a union meeting in November. Sodexho has a long history of being anti-union, said H.E.R.E spokesman Ryan Nissam-Sabat. For the last two years, H.E.R.E. has fought to organize a union for Sodexho employees on Xavier's campus, as well. In addition, H.E.R.E. worked with student organizations at NKU such as Students Together Against Racism to rally and protest Sodexho for allegedly threatening employees with termination if they joined a union.
"Sodexho does a good job of intimidating employees," Nissam-Sabat said. "These tactics can't continue."
Vicers and Welch said they experienced intimidation tactics after another employee told the management of their attendance at the union meeting.
"Everything was just fine and dandy," Welch said "Then we went to the meeting, and they (management) didn't even speak to us."
Vicers and Welch also said their hours got cut in half, and they heard rumors that Andy Meeks, the executive manager of Sodexho at NKU, wanted to get rid of them. Welch also said the managers would pick on them.
"They would find little things to pick at us, just to yell at us," Welch said.
A month later, the two employees were permanently laid off.
Meeks said the layoffs were unrelated to union activity, and Sodexho has layoffs every December because catering jobs drop off after Christmas break.
Meeks said he is aware of union activity among workers, but said he never intimidated people from union activity and doesn't even know where and when they meet. "I know there have been meetings, and there probably will be more," Meeks said.
Meeks said he doesn't know why unfair labor practice charges would be filed against Sodexho at NKU. "They are probably just disgruntled employees. That's a guess. I just don't know," Meeks said. "Food service is hard work. It doesn't work out for everyone all the time."
Leslie Aun, a spokesperson for Sodexho, said it is against company policy to threaten or fire workers for wanting to join a union. She said Sodexho is just as tolerant of unions as any other companies, citing that 15 percent of Sodexho's workers are union and the company has over 240 union contracts nationwide.
"We have positive relationships with unions," Aun said. "We negotiate in good faith with labor unions."
If the NLRB finds Sodexho released the two caterers for their involvement with the union, they will force Sodexho to take the employees back and compensate them for lost wages. This would not be the first time the NLRB found Sodexho has illegally fired employees for union activity. In August of last year, the NLRB ruled that Sodexho-Marriott, the predecessor of Sodexho, illegally fired six workers at Botsford Hospital in Farmington, Michigan for their union activity in March 1998.Nissam-Sabat said they are going to continue to put pressure on Sodexho until they allow workers to form a union.
"We are very committed because workers are not having a voice," Nissam-Sabat said.
Aun said any intimidation techniques are against corporate policy and would like to hear from employees not happy with their treatment. She urged them to call Sodexho's headquarters in Gaithersburg, Maryland at 1-800-Sodexho.