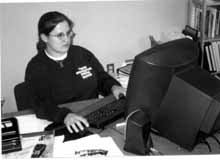 The Student Government Association Web site now has a new look.
Katie Herschede, SGA president, said the layout and information provided on the Web site has been improved.
"I see the SGA Web site as a place where students can go find relevant information easily. The old Web site did not accomplish this goal," she said.
Herschede said the new Web site is easier to navigate and gives information on what SGA is doing.
Misty Denman, vice president of public relations for SGA, also said some changes made include the SGA constitution, information about SGA members, and allows visitors to offer feedback easily.
"All around, it is much more usable to the students involved in SGA as well as those students who are just visiting our site," Denman said.
Herschede said the Web site will also make it easier for students to get involved.
"Instead of having to fill out a paper interest for and return it to our office, students will be able to do it all online," she said.
Herschede said the new Web site offers links such as Yahoo and Google because it is important for students to have access to a variety of sources.
She said she envisions the Web site as a place where students can go to find the answers regarding questions about NKU.
"If they cannot find the answer on our page, using one of the search engines should help," Herschede said.
The SGA Web site also offers a link to The Northerner, NKU's weekly student newspaper.
"Since The Northerner just got a new Web site, I think it is very appropriate that their Web site is linked with ours. It is important for everyone at NKU to promote each other," she said.
Herschede said SGA will continue to add many more departmental links.
Denman said the Web site should be used by all students.
"This is our link to the outside world, and we plan on utilizing its capacity," she said.
Check out the website at www.nku.edu/~sga