Flanagan performing well as team 'shooter'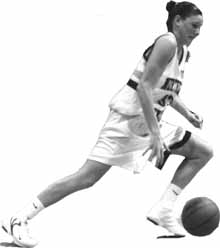 A solid shooter is an athlete who works hard to make most of their baskets when they're performing on the court. Northern Kentucky University women's basketball junior guard Bridget Flanagan can be considered one of those players.
Flanagan has been working hard to accommodate her role as the "shooter" on the basketball team. "During the summer, I worked on my game. I have worked on my shooting and my ball handling," she said.
The hard work has definitely paid off for her. Flanagan is shooting from the floor at a 42 percent clip (90 for 123) and she is averaging 13.3 points a game, which is second on the team behind All-American senior Michelle Cottrell.
"She has come a long way. She has more confidence and continues to improve. She is talented, and that makes for a good player," NKU women's head coach Nancy Winstel said.
However, Flanagan's 3-point shooting is what gives her the high marks. She is currently first in the Great Lakes Valley Conference with 2.6 three-pointers per game and fifth in the conference with 39 percent (47 for 121) of her 3s going in.
According to Flanagan, she has always had the 3-point touch. "Ever since high school, I have had the same flow. I don't make every shot, but I feel real confident that shot is going to go in."
Winstel believes that Flanagan is a more versatile player now and that makes her more of a scorer when she is on the court.
"When she gets a good look and her feet are down, she is one of the best shooters around. When she puts the ball on the floor, she is creating shots. She has added that to her game."
Flanagan does all she can to try to lead the Norse to victory, especially this season being an upperclassman, which puts her in kind of a leadership position.
"I'm more vocal and enthusiastic. I try to get the team up," she said.
Winstel added, "She has moved from the role of follower to leader. She has stepped up and been the leader with Cottrell (who is injured) not out there. I'm happy about that."
Flanagan went on to say that everyone on the team, including the starting five, has stepped up in place of Cottrell's absence and has gotten into the flow.
Flanagan herself has been one of the key factors on the team this season, because she strives to be successful. She is prepared for every game, because she gets herself ready and pumped up.
"Before every game, I close my eyes and mentally pray to God in the locker room. I also do some superstitious things. On road trips, I listen to some music. I do the same things before every game, and I am focused by doing that," she said.
Flanagan truly has to be focused with the many things she accomplishes day in and day out as a basketball player.
"She has been a significant player. She has been consistent offensively, and she has stepped up and been a marquee player on our team. It's been a pleasure to coach her," Winstel said.
As she finishes her career, Flanagan will probably receive many accolades and get the recognition she deserves. One of those occasions took place on Dec. 8 at Regents Hall. Flanagan scored her NKU career high of 25 points against the University of Southern Indiana.
"Southern Indiana is one of our biggest rivalries. I was so pumped up. After making my first couple of 3s, I had the touch and kept making them," she said. "I had a lot of confidence. The fans were great too."
Flanagan said that her and her team always want to win every home game. That is their team goal every year. For her personal goals, she just wants to be more of a threat and a better defender.
"She is starting to handle the ball more. She wasn't use to that as a freshman but now she knows she needs to do that," Winstel said.
Flanagan can give a lot of credit to how coach Winstel has helped her develop into the type of ball player she has turned out to be.
"She is always getting on me since I was a freshman. She knew I was a good player. She yells at me but in a good way. Coach talks to me and helps make me a better player. She knows a lot about basketball.