Faulty fire alarm
February 4, 2002
Filed under News
Hang on for a minute...we're trying to find some more stories you might like.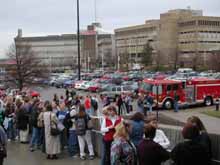 Stacey Sutton
Students stand idle outside Albright Health Center waiting for the Highland Heights fire department to give the signal that all is safe after a fire alarm went off on January 31st.
This was the third fire alarm of the week in the Health Center, which fire department officials attribute to a faulty alarm.