Car accident leaves soccer player on sidelines this spring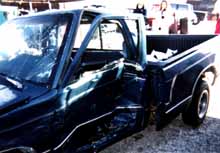 Imagine making a left-hand turn at the same place you've made a left-hand turn almost every day of your life.
Now imagine making that turn and getting side-swiped by a truck at more than 50 miles per hour.
Junior soccer player Mike Poole doesn't have to imagine it.
"It all happened so fast. I couldn't believe it," Poole said. "I remember being thrown around the cab as my truck was bouncing from car to car."
Poole was on his way home on the evening of Jan. 11, when he was struck on the drivers-side door by a speeding truck. He was making a left-hand turn on State Route 237, when a Chevy Extreme allegedly ran a red light at more than 50 mph. The driver of the vehicle was unharmed.
The impact of the collision pushed Poole's diaphragm under his rib cage, causing uncomfortable breathing.
The starting left-midfielder on the men's soccer team was immediately rushed to St. Luke Hospital West. From there he was airlifted to the University of Cincinnati Hospital where he had two hour surgery to repair a four-inch gash in his diaphragm and put it back in place.
"It hurt to breathe. I was in excruciating pain," said Poole. "My ribs felt like they were being crushed."
Poole's surgery was successful and is now back at school after two weeks off. He planned on playing soccer for the men's team this spring, but his injury will keep him out longer than expected.
"I really wanted to play some soccer this spring to get ready for next season," he said. "But my injury is preventing me from playing until next fall."
Poole said he didn't expect any setbacks from his injury, but realizes how difficult it will be to get back in shape.