Campus makes safety improvements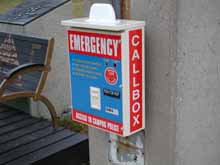 Stacey Sutton
Northern Kentucky University has plans to improve campus safety by increasing lighting and putting new emergency call boxes throughout the university.
"New call boxes and improved lighting on campus are a part of the continuing effort to provide a safe and secure environment," said Jeff Butler, director of public safety. "The university is on a planned upgrade with half of the boxes having been upgraded this fiscal year and the remainder in the near future."
The old call boxes are analogs and the new ones are digital. According to Butler, the improvements are upgrades.
"The technology and advances permit more effective and efficient equipment," he said.
The existing call boxes are several years old and Butler reported that they are still in "good working order", although they are not as efficient as the more current boxes. The call boxes are maintained by the physical plant personnel.
The physical plant personnel, along with the department of public safety jointly decide the locations of the boxes.
"Consideration is given to accessibility and other factors," Butler said.
There are currently 16 emergency call boxes on campus.
"Adding lighting has been a problem for 15 to 20 years," said Mary Paula Schuh, director of campus planning.
"Funding was finally provided by the 2000 General Assembly in the form of a capital renewal fund that the university has matched on a 50/50 basis."
The funding will provide for a better lit campus.