Athlete of the week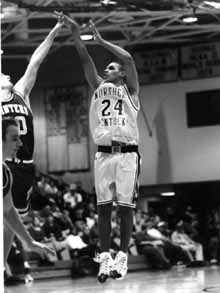 Northern Kentucky University's Brenden Stowers, a 6-2 junior guard from Covington, is the Northerner Athlete of the Week.
Stowers has been phenomenal for the men's basketball team the past few weeks. Jan. 3 against Quincy University, Stowers scored a bucket with two seconds remaining to give the Norse a 76-74 victory.
The following game against Southern Illinois University at Edwardsville, Stowers had 10 points, six assists, and 4 steals as the Norse defeated the Cougars 90-62.
Stowers erupted for 24 points in the 76-72 win over Bellarmine University Homecoming night. He made three three-pointers and two clutch free-throws in the second half to put the Norse ahead for good.
Stowers had 20 points, five assists, and three steals in a losing effort against the University of Southern Indiana, Jan. 24. The Norse fell 99-90 in a high scoring battle with the Screaming Eagles.
Stowers is averaging just over 13 points per game this season for the Norse, a five point increase from last season. The Norse are 13-5 overall and 9-3 in the Great Lakes Valley Conference.