Absence of Cottrell felt by team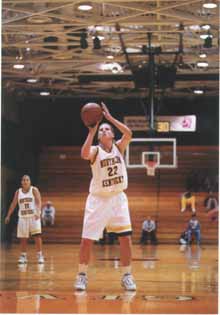 The Northern Kentucky University women's basketball team will be without its top star for a while.
Senior forward Michelle Cottrell has a stress fracture in her right foot and will be out a few games so she can get back to full strength.
Cottrell's injury comes at a time when her team really needs her. On Jan. 19, her first game sitting out, the Norse suffered their first conference defeat of the year, losing to Bellarmine College 72-56 at Regents Hall.
NKU was 9-0 in the Great Lakes Valley Conference going into the game and the team was ranked No. 3 in the Division II poll.
Cottrell also missed an important road game against the University of Southern Indiana last Thursday. NKU ended up losing the game 93-74 to the Lady Eagles and suffered their second straight loss without their leading scorer in the line-up.
That game was important, because it wasn't only a key conference game but last season, Southern Indiana upset the Norse in the GLVC tournament championship.
However, NKU defeated the Lady Eagles 81-71 earlier this season in a game played at Regents Hall. Cottrell scored 19 points and grabbed 18 rebounds in that home victory.
The Norse can't afford to fall apart right now. The GLVC Tournament, which will take place in Evansville, Ind., is less than a month away and the Norse need to be healthy and injury free in order to do well.
Being at the top of its game is how a team goes far in the NCAA Division II Tournament. The NKU women know all about that. Just look at the National Championship banner hanging in Regents Hall.