Women's basketball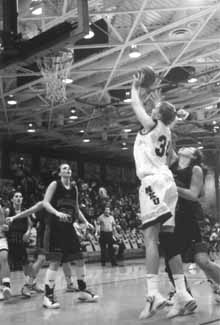 Stacey Sutton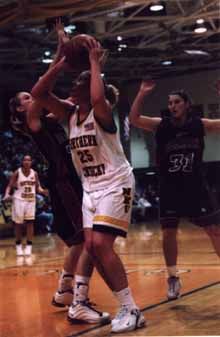 Stacey Sutton
Norse (13-3, 9-1 GLVC) suffer first GLVC loss
HIGHLAND HEIGHTS, Ky. – Lynne Johnson and Nickie Randall both scored 23 points Saturday as the Bellarmine University women's basketball team defeated Northern Kentucky University, 72-59, in Regents Hall.
Randall added five steals as Bellarmine (12-4 overall, 8-3 Great Lakes Valley Conference) handed NKU its first loss in the GLVC. The Norse, ranked No. 3 nationally in the NCAA Division II poll, dropped to 13-3 overall, 9-1 in the GLVC.
NKU played without senior All-America forward Michelle Cottrell, who is out with a stress fracture in her right foot. Cottrell averages 18 points and 10.5 rebounds per game.
Bellarmine built a 38-31 halftime lead as Johnson scored 14 points. The Knights held NKU to just five points during the first 10 minutes of the second half and coasted to the victory. Amy Mobley led NKU with 22 points and 11 rebounds. Kristin Polosky added 13 points and eight rebounds for the Norse, who made just 35.1 percent of their shots from the field.