Women's basketball coach picks up 400th win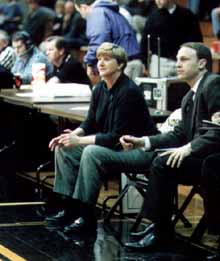 Stacy Sutton
Northern Kentucky University women's basketball coach Nancy Winstel can easily be regarded as one of the best athletic coaches NKU has ever had.
She has certainly earned that name.
It was more evident last Wednesday as Winstel picked up her 400th NKU coaching victory when the Norse defeated former conference foe Kentucky State University 82-67.
"It's an honor. It says a lot for our program," Winstel said. "It reflects on the program we've had, the players and people I've worked with. It's a neat thing from that stand point."
Winstel went on to say that every win is special, even if it's win No. 50 or 350. She's more proud of how her players performed than she is of reaching a new milestone.
"It was a tough win. Kentucky State was a very physical team. It was a tremendous challenge for us. I'm really proud of our kids. That is what I will most remember about it," she said.
NKU Athletic Director Jane Meier said that Winstel's milestone is a true precedent of what kind of coach she has always been.
"It's a statement. She averages 20 wins a season. That's remarks for a good coach," Meier said.
Winstel has proven that she is a great coach. During her 20-year tenure as an NKU coach, she has led her teams to numerous Great Lakes Valley Conference championships as well as plenty of NCAA Division II Tournament appearances.
"We want to be competitive and go to the NCAA Tournament, but we've got to win," Winstel said.
The Norse know what it takes to win. Two years ago, Winstel coached her women's basketball team to the school's first ever NCAA Division II Championship. This season, her team has started out 9-0 in the conference and are currently rated third in the Bulletin poll.
"That is proof of how fortunate we are to have her at NKU," Meier said.
Winstel is also there for her players at all times. She doesn't just have a professional relationship with them but an individual one too.
"I'm proud of our girls, because they work real hard. I'm proud to be their coach," Winstel said.
That same kind of player relationship is evident with Ken Shields, the NKU men's basketball head coach, as well.
"We are very fortunate to have both coaches," Meier said. "They are both hard and smart, they care a great deal for their players, they hate to lose but know how to handle it and they care a great deal for their players beyond basketball. They are both very demanding of their players."
Shields is currently second behind Winstel in NKU basketball coaching victories. As of Friday, he had 271 career wins at Northern.
No matter how anyone looks at it, NKU has one of the best basketball programs in the GLVC and probably Division II as well. If it weren't for great coaching, the teams wouldn't be where they are today.