University groups unite at the Ky. State Capital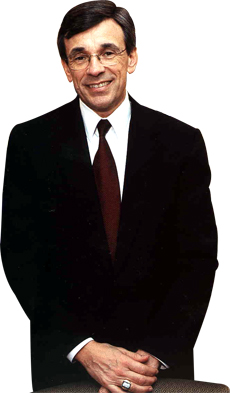 Susan Bartels
In an effort to bring varying elements together in a show of support for Northern Kentucky University and higher education, administrators, staff, board members and students descended on Frankfort Jan. 16 to showcase programs and advocate legislators.
The theme of the day was "Partnerships for Progress" and it included a presentation of several university programs to the board of Regents, a press conference to announce a $2 million gift to the college of business and a reception that brought together all the elements under one roof.
Deborah Read, vice president for university advancement said the goal of show casing the university was achieved, but it will be a while before it is known if the long term goal was met.
"We'll have to wait until the end of the legislative session to see how higher education fared as it relates to funding," said Read.
In his address to those attending the Regents meeting, Gov. Paul E. Patton said the state is "trying to hold the line" until the revenue improves.
"Our goal is to continue the promises and the obligations of the programs that have been started, and amazingly it looks like we can do that," Patton said.
This is the second time NKU has hosted a program such as this in Frankfort. The first time was in 2000. According to Read, the plan is to make it a biannual event.
"The partnership of alumni, students and community leaders helps to let legislators know needs and hopefully make informed decisions regarding funding," said Read.
A press conference held the same day in the rotunda of the Capitol to announce a gift to NKU's college of business of $1 million dollars. The gift will be matched with another $1 million from the Commonwealth of Kentucky endowment trust fund.
The gift was made by an anonymous donor in the name of Eva G. Farris. Farris said the donor made the gift in her name because of "how much I push for education."
Farris was born in Cuba and graduated from the University of Havana. She now lives in Northern Kentucky and volunteers at the James E. Biggs Early Childhood Development Center in Covington.
"Education is so very important for the future of Northern Kentucky youngsters," said Farris.
Overall, Read said the day was considered a success. "It demonstrated the dedication of everyone in trying to move the university forward."