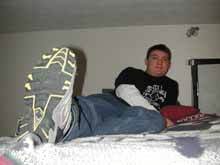 Scott Wartman
When junior Jonathan Jackson moved into his one-bedroom Woodcrest apartment at the beginning of last semester, he found he wouldn't be sharing the small living space with just one roommate, but two people. Jackson said he wasn't given any notice of his additional roommate until he saw him lying on the bed as he was moving in.
He said the bedroom had little space except for a bunk bed and a mattress.
"The room is already as small as it can be," Jackson said. "It made me real mad."
Jackson was not alone in his experience as 60 other one-bedroom Woodcrest apartments were tripled up last year. Many other students complained of short notice on receiving their room assignments, leaving little time to prepare.
To remedy some of the last-minute confusion for students moving in, University Housing is changing how students put in their request for campus housing. Instead of taking the whole month of March to collect students' requests for living space, students will put in their requests on three days in March. The first two days will be Mar. 25th and 26th when students can claim what Assistant Director of Student Housing Sheila Murray dubbed "squatter's rights". Murray said on these two days, any returning resident who wishes to stay in their current residence will be able to do so by requesting it.
For other returning students, they can request their roommates and rooms on Mar. 31st and will know their room assignment on the same day. Murray said University Housing was aware of the problems some students experienced last semester, and this new process will prevent them from happening again.
"We want to keep students on campus," Murray said. "We want to respond their needs and make it more fun to do this, give them options and more opportunities to get what they want."
Having all the room request come in on three days will streamline the housing process, said director of University Housing Todd Duncan, and allow students ample time to prepare for moving in.
"It will allow us to adapt easier with students who change their housing preferences later on," Duncan said. "It allows us to get their responses quicker."
Because the old process took a month to receive all returning students' housing requests and then another month to get new student housing addresses, Murray said it took until at least June to finalize a person's request.
Many students residing in university housing favor the new policy.
Junior Emmy Boley said she likes the new policy and doesn't want to repeat what happened to her last semester. She said she didn't know where she was living until a few weeks before class and wasn't able to move in until two days before the first day of class. This late notice made it hard to plan, Boley said.
"It didn't give me any time to get settled. It took me half way through the semester to get organized," Boley said.
Tiffany McGuire, a sophomore living in Woodcrest, said knowing where and who you are going to live with in advance will be very helpful in planning on how to move in.
"It is a better way to get to know your roommates," McGuire. "Sometimes first impressions tell everything. So if you know that the person is not someone you want to live with, you will have the opportunity to say this is not where I want to live and I will be able to be switched."
Duncan said the transition between Spring 2002 to Fall 2002 semester will run smoother than the year before. Much of last year's confusion was a result transformation University Housing was undergoing, Duncan said. The department was completely restaffed at the end of the Spring 2002 and Duncan said this caused many administrative problems and records being misplaced.
"We experienced growing pains," Duncan said. "It was more rough then. Next semester should run smoother."