Student interest brings three more creative writing courses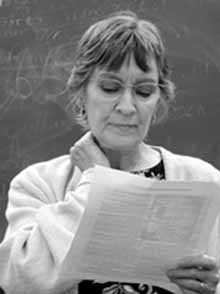 Stacey Sutton
Shakespeare, beware. Creative writers on campus now have more classes available where they can fine-tune their craft.
For the first time, Northern Kentucky University is offering three upper-level creative writing classes during the same semester.
Student interest brought the additional offerings, according to Andy Miller, who is currently the only full-time faculty member teaching upper-level creative writing courses.
In the past, students could take fiction writing in the fall semester and poetry writing in the spring. Miller taught both classes.
He felt the faculty for creative writing courses also needed to expand with the additional course offerings.
"I was the only teacher for all the creative writing classes," Miller said. "That is not necessarily the best."
Last spring, Miller brought author Stephen Leigh on campus to teach Science Fiction and Fantasy Writing. Leigh has penned 16 novels and has published over 24 short stories.
"Andy's doing a good job strengthening the [writing] program at NKU," Leigh said.
Dr. Danny Miller, Literature and Language Department Chair agreed.
"A goal of the department is to expand the creative writing program," Danny Miller said. "We are trying to do that by having guest instructors each semester."
Leigh returned this fall to teach Introduction to Creative Writing (ENG 292), which is the pre-requisite for all upper-level creative writing classes. Leigh is also teaching Novel Writing in the spring.
Students should complete the course with two completed chapters and a synopsis for their novel.
Terri Ford, a published poet, is another addition to the creative writing staff.
Ford currently teaches ENG 292 and will teach Poetry Writing during the spring semester.
Danny Miller described guest instructors as "the exciting part" and "very good for our students."
Andy Miller is currently teaching Fiction Writing. The class is at capacity with 24 students.
"We're hoping for at least 15 students per class," Andy Miller said.
Novel, poetry, and humor writing are all options within the English department for the spring semester. The theatre department is also offering screenwriting.
Andy Miller, who has had various limericks, parodies, and humorous fiction and non-fiction published, is teaching Humor Writing in the spring.
The course will cover many genres, such as verse, fiction, non-fiction and plays.
"Next semester is an experiment," Andy Miller said. If there is enough student interest, he hopes the expansion continues.