Run, Norse, Run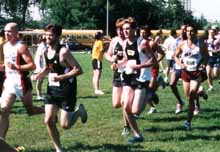 After Northern Kentucky University junior Elaine Koenig finishes her classes, she runs. She may run anywhere from two miles to eight miles and, like most other cross-country runners, she does it daily.
A cross-country runner's day starts early and often runs late into the evening. Koenig, a journalism major, is in her second year with the team and said that her days start at 7 a.m. She is taking 13 credit hours this semester, and works 8-10 hours a week in the Administration and Finance Office on-campus.
Koenig said living off-campus could cause an inconvenience when there are early morning practices and when the team leaves for meets early in the morning.
Both teams practice Monday through Friday, race on Saturday and complete a recovery run (an easy run that gives legs and muscles the chance to rest) on Sunday.
A typical practice starts at 3:30 p.m. and ends between 5 and 6 p.m. The first half hour is spent stretching. The rest of practice is spent running, doing hill workouts, speed workouts and running trails.
Koenig, who placed first in the collegiate category at the Hagen Stone Classic, provided what a sample week of practice might include. Monday would start with a 3-mile warm-up run, followed by speed work consisting of running repeats of short distances followed by a 2-mile cool-down run.
Tuesday may consist of an 8-mile run. Wednesday could begin with a 2-mile warm-up run, followed by speed work, and end with a 2-mile cool down. Thursday would include a moderate 4-mile run. Friday, the day before a race, would consist of an easy 3-mile run. Sunday would be spent recovering so team members generally run for about 40 minutes to give their legs and muscles a break.
Practice and meets are not the only components of being on the cross-country team. Kevin Alessandro, a senior speech communication major on the men's team, said some time outside of practice is spent checking results of teams in their conference and region.
Cross-country meets begin in mid-August and last until early November.
Dedicated team members spend time in off-season training and working out, too.
"If you want to be a good runner, you have to train all year," Koenig said.
Some cross-country members run with the NKU track team in the spring to help better themselves. Brian Alessandro, speech communication major and a senior on the men's team, ran an average of 70 miles per week over the summer to keep him in shape. Depending on how much they want to improve and how good they want to be determines the time spent training in the off-season.
Some might ask why put so much time and effort into an activity.
"I feel the time and effort I put into my sport, work and classes show determination and a willingness to be a leader," Brian Alessandro said.
Ryan Carskadon, a junior and information systems major, said that he likes cross country because it is something he is good at, and because of the amazing feeling he gets when he sees the results of his hard work.
Unity and friendships are formed among all the hard work and stress involved in being part of a team. Spending long hours together teaches the team to trust and respect each other.
Brian Alessandro, who is also the secretary of the student athletic advisory council, said when you get close to your teammates you want to work extra hard and do well for them.
Although stressful, challenging and time-consuming, the overall feeling is that the cross-country runners are proud to be members of the team.
"I wouldn't change any of these things, and enjoy being a student athlete here at NKU," Brian Alessandro said.