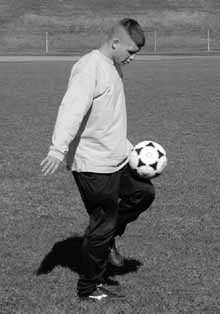 Northern Kentucky University's Jeff Anderson, a 5-foot-9-inch senior from Cincinnati, is The Northerner Male Athlete of the Week.
Anderson, a midfielder on the men's Norse soccer team, has lead the team with nine goals and five assists in 17 games. Anderson scored the last second, game-winning goal against the University of Missouri-St. Louis that clinched a first-round home game in the Great Lakes Valley Conference Tournament.
"It's great having a home game in the tournament," said Anderson. "Hopefully we can win it and move on to the next round."
Anderson not only hopes to win the first game of the GLVC Tournament, but more importantly the championship, which would give the Norse an automatic bid in the National Collegiate Athletic Association Division II Tournament.
In addition to being the Northerner Athlete of the Week, Anderson has been the GLVC Athlete of the Week and NKU Offensive Player of the Year twice.
"Jeff has come through for us many times when we needed him to in clutch situations," said Mike Poole, a junior midfielder. "He should have received this award a long time ago."