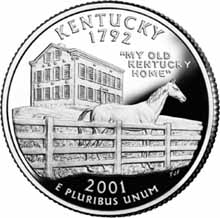 A quarter commemorating Kentucky's historic background made its debut on Oct. 18. The coin was released as part of the 2001 series issued by the U.S. Mint as part of its 50 State Quarter Program.
The program was started by the U.S. Mint in 1999 to commemorate each of the nation's states in the order they joined the union. Teaching people about each state's history and geography is the goal of the program.
A stately mansion on Federal Hill with an inscription that reads "My Old Kentucky Home" is engraved on the coin. Positioned behind a fence in the foreground of the quarter is a thoroughbred horse that commemorates the Kentucky Derby, the longest running annual horse race in the country.
The design shows a side view of the famous Bardstown home where Stephen Foster wrote the song, "My Old Kentucky Home."
Kentucky first lady Judi Patton headed the Kentucky Quarter Project Committee. Twelve finalists were selected from 1,800 designs submitted from across the state. The designs were displayed in the front lobby of the capitol in Frankfort and over the Internet in 1999. Fifty thousand Kentucky. residents cast votes for their favorite concept.
Governor Paul E. Patton selected the final design.
To learn more about the Kentucky Quarter, the 50-State Quarter Program and other US Mint programs, go to www.usmint.gov