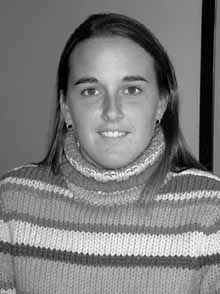 Northern Kentucky University's Jamie O'Hara, a senior from Paducah, Ky., is "The Northerner" Female Athlete of the Week. O'Hara led the women's tennis team to its four straight Great Lakes Valley Conference championship with a 16-3 overall record this season.
"It's a great honor to be named Athlete of the Week," said O'Hara, who will most likely receive her fourth consecutive GLVC Player of the Year honor.
O'Hara improved her career conference record to 44-0 when she defeated University of Southern Indiana's Michelle Lenahan, 6-1, 7-5 on Oct. 13.
"It's been great going undefeated all four years in the GLVC," said O'Hara. "I'm happy we won our fourth consecutive conference championship."
Thanks to the great play of O'Hara, NKU has not lost to a conference team since 1997.