Russian couple pirouette their way across the Ohio River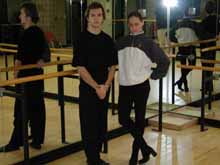 Two of the newest additions to Northern Kentucky University's full time faculty are Anna Reznik and Alexei Kremnev.
The Russian couple, formerly principal dancers at the Cincinnati Ballet Company, will be teaching dance classes beginning this semester.
They are teaching two classes. Their partner class consists of two male and two female students and their classical dance class consists of seven students. Kremnev said their classes will give students individualized attention.
Joe Conger, chair of the theater department, said room 116 in the Fine Arts building, which is now a storage room, should be made into a dance studio by the end of the semester or early summer.
Conger said the future of the program is dependent on how successful it is. He added, however,that he doesn't immediately see a dance major available on campus.
"Right now, we're not sure we're headed in that direction," he said.
Conger believes it will start with 3-5 students who will major in theater with emphasis in dance.
"I think it will start slowly," he said.
Conger believes that Reznik and Kremnev's presence will attract students. He added the department feels "very lucky" that Reznik and Kremnev were interested in NKU.
"We've been asking for an energy boost in dance for a long time," he said.
Conger said the dance program at NKU will be much more diverse than programs such as the College Conservatory of Music at the University of Cincinnati.
UC requires dance majors to take 12 quarters of dance, including one and a half hours of ballet technique, according to Debbie Reynolds, secretary of UC's dance division.
Ballet will be a part of NKU's dance offerings, but NKU's program will not be as ballet-based as the one at UC. NKU dance class offerings will also include show dancing.
In addition to teaching college-level classes at NKU, Reznik and Kremnev will begin teaching prep classes for younger students.
Kremnev says they are planning to start these classes Mar. 1 and will accept students ages five and older.
He said there will be five levels based on age. In addition, there will be two levels of education within each age group. Kremnev said the reason for this is to accommodate the experience level of each individual.
Kremnev said there are already students from different cities that want to participate in this program.
There will only be a few classes offered in March, but more are scheduled for the Summer Institute. Charges for the prep classes have not yet been set, but they will be competitive with fees established in the world of dance.
According to Conger, flyers and brochures are being created that will be distributed within the next two or three weeks.