Math and science get boost from grant to address shortage of teachers, low grades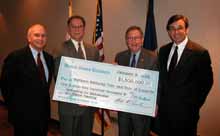 Rogers Redding, Phil Schmidt, Mitch McConnell and James Votruba.
Sen. Mitch McConnell has secured $1.5 million grant for a partnership entitled "U2PMAST", between Northern Kentucky University and the University of Louisville. The grant is intended to aid research and education in both science and math.
The money will be divided between the Center for Integrative Natural Science and Mathematics housed at NKU and U of L's Mathematics and Science Teacher Development, Education, and Research Center.
As a partnership, these two programs will address the shortages of professional mathematics and science educators, and low achievement by students in these disciplines.
"A decreasing percentage of students are going into the study of mathematics and science in college," explained Phillip Schmidt, CINSAM director. "So the number of those who might eventually teach is reduced."
Students attracted to high paying jobs may avoid teaching because salaries in teaching are generally lower than in other professions. Schmidt said.
He added that most people who choose teaching do so for the rewards of seeing students learn, a benefit which many people never realize.
One reason many students do not achieve in science and math could be because not enough is expected of them.
In Kentucky, for example, high school students are only required to take three courses in mathematics. Schmidt said unless this includes Algebra II, most students are not ready for math at the college level.
CINSAM was established as the Program of Distinction at NKU by the Council on Post-Secondary Education.
The mission of CINSAM is to enhance the teaching, learning, and applying of science and mathematics at NKU and in the schools of the Northern Kentucky region.
The program offers scholarships for students in the disciplines of biological science, chemistry, computer science, mathematics, physics, geology, or elementary education with an area of concentration in science or mathematics. The scholarships pay for students' tuition, books, and housing. The number of scholarships awarded is dependent upon availability of funding.
"NKU plans to use its half of the funding for science equipment and program development for primary, middle, and secondary school outreach, teacher education, and undergraduate research opportunities.
The University of Louisville will focus the other half of the funds on graduate and post-graduate research and teacher development.
NKU President James Votruba said, "Senator McConnell understands the importance of teaching at the intersection of the sciences and has pulled through at a critical time to help NKU with our quest to build CINSAM as our national program of distinction. Our future depends on having students who are advanced at the intersection of the sciences."