Cottrell breaks 22-year career scoring record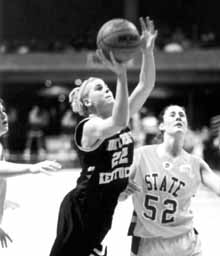 Stacey Sutton
NCAA Division II Bulletin Player of the Year. Division II All-American. Most Valuable player of the NCAA Final Four.
Those are just some of the awards and honors Northern Kentucky University women's basketball senior Michelle Cottrell has received during her basketball career.
Now she can add something else: NKU women's basketball all-time career leading scorer. Cottrell achieved the feat on Dec. 21 in the championship game of NKU's annual Community Recorder Classic at Regents Hall.
She scored her 1,884th point with seven minutes left of the Norse women's game against Delta State, breaking Peggy Vincent's record of 1,883, which stood for 22 years. "It was a special moment," NKU head coach Nancy Winstel said. "I don't think she's truly aware of it, but when she finishes her career, she will appreciate it. I'll be curious to see if the record stands for another 22 years."
Cottrell said she was happy to break the scoring record on her home court because that was how she planned for it to happen. "I wanted all of my family to see me do it, especially during tournament time. That was important for me. The next game was in Michigan and it wouldn't have been as special."
Cottrell said that someone told her a while back that she had a chance to break the record, and she has been aware of it ever since. "I have always had it in the back of my mind."
Also, Cottrell broke the record of a really great basketball player from years back and can easily be placed in the same category as Vincent.
"I played with Peggy. She was a great player. It's been an honor to coach Michelle," Winstel said. "I think Cottrell is right up there."
Cottrell agrees with her coach's comments. "Coach said on ICN-6 that I was the best player she has ever coached at NKU. I guess I can be placed in the same category as Peggy Vincent."
Getting point number 2,000 is the next feat Cottrell will be aiming at next. She is less than 50 points away from that accomplishment.
"After breaking it, she wants to get as many as she can," Winstel said. "If it helps us win, that is good. "She deserves all the accolades she can get."Cottrell said that breaking the all-time scoring record was the most special. However, she said that she never scored 2,000 points in high school. "That is a nice achievement too."
Even with all the awards she has stacked up over her playing career, Cottrell couldn't have done any of it without the help of her teammates, because she has always been a team player.
"The first and foremost thing, she wants her team to be successful. She wants to win, and it's a team thing. She does what she can to help the team out," Winstel said.
Winstel went on to say that Cottrell has had a phenomenal and a story book career and that she has helped put NKU on the map.
"Cottrell is an integral part of the achievements the team has put together. You have to give a great debt of thanks to her."
Cottrell said that her coach has helped her develop into the player she is today. "She has always had confidence in me. She gave me an opportunity to be a starter as a freshman. She has helped me a lot."
Winstel added, "We have always had great centers, and Cott has been one of the greatest. I am a post-perimeter oriented coach. We're a half court team, and we take the ball inside. Michelle has been the cream of the crop. She has made me a better coach."
But Cottrell doesn't feel she is done yet. She still plans on accomplishing more things on the court before her career at NKU is over. "This year, we want to go as far as we can. I want to be an All-American. I will try my best. There is always something to achieve."
Cottrell might even be able to help the Norse win another NCAA Division II National Championship for her ball club and for the school. She's definitely been down that road before."You can't stop talking about Michelle. She's easy to talk about," Winstel said.