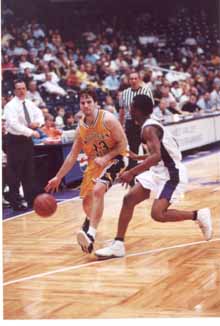 The Northern Kentucky University men's basketball team aims for a second shot at the NCAA Division II Tournament. The Norse made it deep into the NCAA Division II Tournament last year, losing 58-56 to eventual National Champion Kentucky Wesleyan College.
"In that tournament, on the floor (at Ky. Wesleyan), that was one of the courageous efforts I've experienced in my 38 years of coaching," head coach Ken Shields said.
The Norse lost starters Craig Conley, Adam Norwell, Brian Lawhon and Todd Clark.
"You have to give credit to those guys in last year's tournament. Losing those guys is a big loss," Shields said.
Despite the loss of players and the inexperience and youth this season, Shields, feels there is plenty of talent on the squad.
Senior guard Craig Sanders returns after leading the team with 17.6 points per game and earning first team All-Great Lakes Valley Conference honors last season. Sanders will be expected to be one of the leaders on the ball club.
"Sanders is the all-time leading scorer (at NKU)," Shields said. "He will provide leadership. He will be something special."
Senior forward/guard Carl Mitchell averaged 12.3 points per game and had a team leading 6.1 rebounds per game last season.
"He was a part-time starter last year. He will have to step up to another level," Shields said. "He will show leadership at point guard. His position dictates it."
Also, junior point guard Brenden Stowers averaged 8.2 ppg and contributed 76 assists last season.
"Stowers had a very solid season and played well in the NCAA Tournament," Shields said. "He is an all-purpose perimeter player."
The Norse have four red-shirted players from last season. Bobby St.-Preux, Jesse Rupe, Darnell Fields, Mike Kelsey and Sean Rowland all will provide depth for the Norse.
Junior Josh Murphy will see time at the four position.
The Norse have seven freshman on the team this year. Shields feels his team can play through it. "Inexperience is something to overcome. Our freshman will be factors down the line," he said.
However, Jordan Stowers could be one the freshman who gets involved early, playing mostly at point guard.
The other freshman on the team are Elder graduates , both red-shirts last season, Brian Carpenter, a walk-on from Lexington Bryan Station, Andrew Vieth, Chris Thompson and Jamie Medved, both from Scott High School.
"Kelsey had a great summer. He is a very good shooter. Rowland is an all-purpose perimeter player," Shields said. "Both players come from one of the toughest conferences in the GCL."
NKU is going to need to have to take advantage of its talent when it plays its conference opponents this season. The GLVC is loaded with high quality teams from top to bottom, including No. 1 ranked Kentucky Wesleyan and top 10 team Southern Indiana.