Cottrell says she's ready to lead team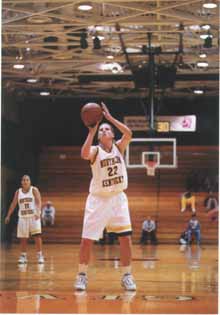 The Northern Kentucky University women's basketball team has been to two NCAA Division II Final Four's over the last three years, and they won their first National Championship two years ago. With all the team's success, there has been one consistent player who has helped lead the Norse to the top of the elite. Her name is Michelle Cottrell.
The 5'11" forward is in her senior year on the NKU squad and is ready to take on a leadership role this season, especially with four players gone from last season's team: Michele Tuchfarber, Jessica Jenson, Heather Livingstone and Julie Cowens.
"We lost our captains. I want to take their spot and be more vocal and be a better leader," Cottrell said.
NKU Head Coach Nancy Winstel feels the same way about Cottrell and said she leads by example.
"She's been more vocal over the years. By example, she is the best to lead," Winstel said. "She doesn't have a 'rah-rah' personality, but she is a little more vocal."
Cottrell doesn't have to try to be a leader; her statistics speak for themselves. Last season, she averaged 17.4 points and 8.1 rebounds per game and was named the 2000-01 Division II Bulletin National Player of the Year.
"She's accomplished a lot. She has perfect work ethic," Winstel said. "She has great power and strength; she's a finisher."
Cottrell said she just tries to go out and do the best that she can every time out. "I want to improve my skills to make us a better team," she said. "I want to help make us the best we can be."
Winstel added, "She gives me all she can. That's all you can ask of a player. She's giving it 100 percent out there. It's nice when your best player works harder than anyone on the team."
Cottrell, however, said she doesn't feel that the game should only fall in her hands.
She is a team player and likes to share the responsibilities, Winstel explained.
"Individually, she's a team player," said Winstel. "She raises our level of play. She's a special player."
Cottrell complimented Winstel on the way she coached her over her career.
"From day one, she has had confidence in me. She expects a lot out of me," Cottrell said. "She's let me handle responsibilities since I was a freshman. She has taught me a lot about the game of basketball."
Coach Winstel has had a special relationship with Cottrell since she put on an NKU uniform. Winstel said that it is such a blessing to have her on the team.
"I appreciate watching her every day. I appreciate having her every day in practice; she's been more than expected," Winstel said. "I thank God she came to Northern; she's been something good."
Winstel has high remarks for all three of her seniors on this year's team. "Suzie Smith is more vocal than in the past and Dana Schubeler has always been very vocal," she said.
Cottrell is, however, the player who stands out. She was named the preseason Division II Bulletin Player of the Year.
"I don't like to be voted. It puts pressure on myself," she said. "I like being the underdog. Now I'm supposed to be on the top at the beginning."
Winstel said that it was an honor for Cottrell to receive the award but it is a better honor that the Norse have been ranked high since she stepped on the court.
"We've been in the national picture ever since Cottrell's been in a uniform, but she's not the only important one. Basketball is a team sport."
Cottrell has a lot of goals that she has set for this season, such as breaking the NKU scoring and rebounding records (174 points away from NKU scoring record) and play better defense. She also wants the team to do well again this year too.
"We want to win the conference and get back to the Elite Eight. It's the greatest feeling to play the last game you possibly can and end it with a win," she said.
In order to do that, the Norse have to get around the fact that they are kind of youthful (two freshman and three sophomores).
"They're doing a good job. They want to play; they're working hard in practice," said Cottrell. "Once they know the program, they'll be fine."
That example can be set in stone for the rest of the ball club.
"If you do your job, everything will work out okay. Pressure is self-imposed," Winstel explained. "You just have to go out and play. That's why you play the game, for the challenges ahead."
Winstel said this year's team has a lot of work to get to last year's team.
"Last year, we had such a dynamic group, shooters and post players," she added. "This year, we have kids that are trying to get to that point. Our confidence is high, and they're finding their way."
Again, Cottrell is the leader on the NKU basketball, and she is ready to go out there and help the team win every game.
"She'll always be a winner. She's so competitive," said Winstel. "She'll score two or 32 points, whatever we'll need her to do, she will do it."
Winstel went on to say that people don't appreciate sometimes that Cottrell is a two-time All-American. She's a marvelous player, according to Winstel.
"When the other team double or triple team's her, she's made them pay. When she's one on one, they can't stop her. I like our chances," added Winstel.
"I'd follow Cottrell anywhere, if you're smart," Winstel said. "I'm glad she's on my side."
And that usually means the winning side for Cottrell.