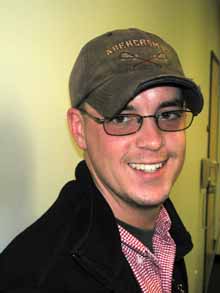 To see if students with disabilities could adequately get the same education that students without disabilities could get, I decided to spend the day in a wheelchair. And boy, was I surprised. The handicap conditions here are a joke.
I started out in the parking lot in front of the Baptist Student Union where students were blocking handicapped ramps to get on the sidewalk. The parking situation got so bad that, after five minutes of trying to get up onto the sidewalk, I gave up, got out of my wheelchair and placed it on the sidewalk or else I would have been late for class.
So, five minutes into my day, I already had to resort to walking. Once I did get on the sidewalk and finally to Landrum, it took another five minutes just to get in the door because the handicapped doors take forever to open.
Once I got to the speech department floor, I found more problems when I entered the different rooms. They were almost impossible to maneuver around unless you weren't handicapped, because of the new desks and chairs. I had to sit out in the hallway and ask for help in rearranging the desks.
After I left Landrum, I had one other class, on BEP's first floor. I would have completely missed my class if someone hadn't opened the door for me. The handicapped access takes forever and almost never opens all the way.
Using the restroom is another story in itself. I don't know how anyone could maneuver in an area that small. It is not enough room for a wheelchair.
Overcrowding on the elevators forced me to fight for spots where I could get on. I also noticed students were always staring at me, and it seemed as if I was a burden to them. I felt I was just in the way. Before this experience, I too felt the handicapped slowed me down.
I ended my day off-campus eating dinner and going to the movies with my fiance. There were no other major problems for the rest of the night. I truly feel sorry for the handicapped students at NKU. Not just because they are handicapped, but because of the conditions they have to go through on a day-to-day basis. They are not up to the standards of what the other students get for their money and something should be done.