Volleyball loses NCAA bid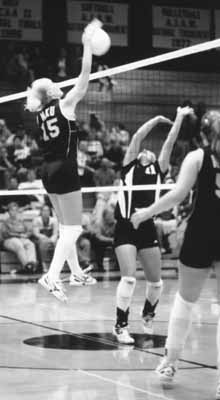 The Northern Kentucky University volleyball team had everything going its way heading into the NCAA Division II Tournament. The Norse had another Great Lakes Valley Conference Tournament championship under their belt and were riding a 23-game winning streak.
However, NKU lost in the second round of the NCAA Great Lakes Region Tournament Nov. 16 against Grand Valley State in four sets at Allendale, Mich. The Lakers were also the same team that knocked the Norse out of the tournament last season.
"They had a deeper bench to work with (7 deep)," NKU head coach Carlos Chia said.
"Their team was more physical and athletic than ours."
Things did look up at the beginning of the tournament for NKU as they defeated Northern Michigan University on Nov. 15 in the first round, winning in five sets: 29-31, 30-21, 22-30, 30-26, 15-11. Northern Michigan was the last team to beat the Norse (Sept. 8 at Regents Hall) before NKU starting their winning streak.
Senior Bethany Gastright led the way for the Norse with 21 kills and a .380 hitting percentage. NKU senior Julie Hathorn added 14 kills and senior Denise Barhorst contributed 12 kills and four blocks as NKU extended its streak of wins to 24.
The Norse were only three wins away from tying the all-time team record of 27 set in 1995. NKU, the No. 4 seed, next took on top-seeded Grand Valley State in the semifinals of the Great Lakes Region Tournament.
The Norse won the first match (30-19) but lost the next three (24-30, 25-30, 21-30) to bow out of the tournament early for the second year in a row.
"We were disappointed to end our season, but we've been to the nationals and the Final Four. That's something to be proud of," Chia said.
Carly Miller was the leader for the Lakers with 26 kills and a .431 hitting percentage.
Also, Chara Fehsenfeld contributed 19 kills and a .350 hitting percentage in the team's victory. NKU was led by Gastright, who had 15 kills and three service aces and Hathorn, who added nine kills in the game.
"We have four scholarship players on the team," Chia said. "They gave it their all; more than expected."
Grand Valley State moved on to the NCAA Division II Great Lakes Region championship as they took on the University of Findlay.
The Norse ended their season under first-year coach Chia with a modest 28-5 record. Chia said that this season was a success, and he looks forwards to a lot more like this one.
"We've averaged 29 wins a year. Our goal is to go to the nationals, and we've done that. We have to recruit full-ride players in the future for exposure for the following years," he said.
Chia went on to say that all the NKU athletic programs have to be recognizable, mostly by word of mouth, to help them recruit players.
The Norse volleyball team also said goodbye to four seniors, which includes Gastright, Luisa Gomez, Barhorst and Hathorn. They will all be missed greatly.
"When you recruit them, you know they will be here for four years. You become attached to them," Chia said.
"Their relatives who come and support our program always remain part of our family. The players have a bright future ahead of them."