Nelson navigates campus' rough roads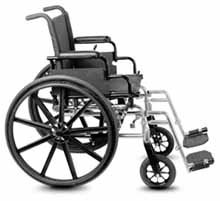 Scott Wartman
What may be a small incline to some is a steep precipice to Northern Kentucky University junior Regina Nelson. Paralyzed from the waist down for the last 11 years from a spinal cord injury, Nelson said simple physical tasks take a lot longer for her than for than able-bodied people. She said it takes a minimum of two and one-half hours to get ready in the morning.
"The time it takes is magnified three times," Nelson said.
Navigating around NKU's campus isn't any easier, she said. Cracks and pebbles on the sidewalk have increased due to construction, and have made an obstacle course for Nelson. She said several times she was thrown from her wheelchair by an errant crack in the sidewalk.
Lack of ramps, crowded elevators and slow automatic doors cause her to be late for classes, Nelson said. Every day, to get up to the plaza level on campus, Nelson must use the elevator in Nunn Hall to get to class.
Nelson said the overcrowding of elevators and of automatic doorways often make traveling on campus very difficult.
"It's not that you have to be rude, but you have to be direct," Nelson said. "You have to make a presence and say, 'Excuse me, can I get on?' "
She encouraged people who only have to go up one flight to use the stairs.
"What I wouldn't give to be able to walk up one flight of stairs," Nelson said. "We have to use elevators. We don't have a choice."
Even a comfortable breeze can prove to be a formidable for Nelson. Nelson recounted a time when she was traveling out to her car and the wind blew so hard in her face, she not only had a hard time moving forward but began choking.
She said spending a day in a wheelchair as Pete Alfield did can bring light to some of the difficulties of being handicapped, but doesn't give any idea of what it's actually like.
"Unless you have your legs tied together and are unable to really use them, you won't understand," she said.
She said it took her three years after her injury to get adjusted to her routine of daily life in a wheelchair. Nelson is currently serving as an Student Government Association Senator and was re-elected in the recent November elections.
"We need a voice," Nelson said.