Women's Soccer: One game and one goal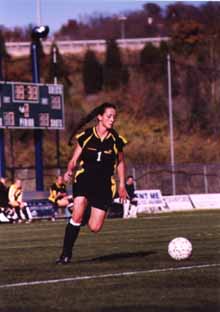 Jeanna Martin
Northern Kentucky's Women's soccer team fell one goal short of the championship match, losing to University of San Diego California 3-2.
The Final Four match took place at Triton Soccer Stadium in front of a record breaking 1,529 standing-room-only crowd.
This was the Norse's chance for a rematch after a 2-1 overtime loss in last year's Championship game.
Both teams came out hard in the first half, but the USDC Tritons opened the scoring in the 28th minute with a goal by senior all-CCAA forward Erika Alfredson.
Alfredson scored two goals both by headers off of corner kicks.
Capitalizing on corner kicks seems to be a strength for UCSD who scored in the championship match last year off of a corner kick.
Thus NKU went into the game knowing they must play tight defense off of UCSD corners, encouraging NKU head coach, Bob Sheehan to comment, "We've been speaking the last 12 months about corner kicks for UCSD. After they advanced to the semifinals to play us, we spent the last two weeks defending corners. We knew how good they were."
Northern defenders, Bushelman, Wilhelm and Ruark put up a tough defense but Sheehan said, " They (UCSD) just did a great job."
The initial lead taken by the Tritons didn't last but 25 seconds before the Norse responded with a goal from junior forward, Stephanie Sandfoss.
The 1-1 tied match soon lead to the next header goal for Alfredson giving the Tritons the halftime lead of 2-1.
The second half both teams came out determined to advance to the championship match.
UCSD scored again by a goal from senior midfielder Laura Dooly.
With the score now 3-1 UCSD the lady Norse still did not give up and answered UCSD's goal with one of their own by junior midfielder, Bessie Black, off of an assist from midfielder Tricia Ruark.
The Norse put up a second-half charge against USCD, out-shooting the Tritons 16-9 for the match.
Unfortunately for the Norse, their shots were unable to hit net and pound in the game-tying goal.
Senior forward Betsy Moore and Black were named to the All-Tournament Team while UCSD also had five players being named to the all tournament team.
Ruark, along with the other seven seniors. ended the season with their championship dream shattered.
However, Ruark showed her disappointment and said, "I am pleased with the performance that our team has put forth this season. We wanted a championship pretty bad but we fell a little short. Even though we didn't win a championship, we had a well played season."
The Norse finished with a record of 22-2 for the season.