Male athlete of the week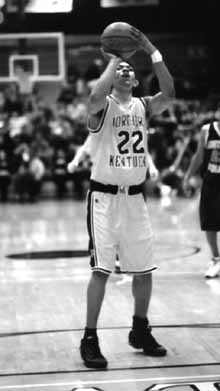 Northern Kentucky University's Bobby St-Preux , a 6-foot-5 guard from West Palm Beach, Fla., is the Northerner Male Athlete of the Week.
The men's basketball team has won three consecutive games thanks to the consistent play of Bobby St-Preux who had 16 points, nine rebounds and three steals in the 94-75 thumping of Indiana University-Southeast on Dec. 29. His great play continued into the new year after he scored 19 points and added nine rebounds, two steals, and two assists in the Norse win over Quincy University, 76-74.
St-Preux's success continued a game later when he scored 17 points, grabbed nine rebounds, and stole the ball five times in the 90-62 win over Southern Illinois University at Edwardsville on Jan. 5. On the season, St-Preux is averaging 14 points per game and 6.3 rebounds per game.
The great play of St-Preux and teammates Craig Sanders, Carl Mitchell, and Brendan Stowers have helped the Norse to an overall record of 9-4 and a Great Lakes Valley Conference record of 5-2.