Comedy show, basketball among Homecoming highlights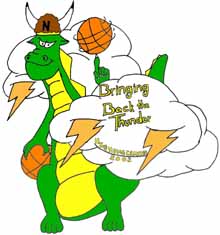 It's that time of year again for Northern Kentucky University's annual homecoming celebration! From Jan. 14 to Jan. 19, events and activities geared to put the NKU population in the homecoming spirit will be offered on campus.
This year a freshman or sophomore may also be nominated for the homecoming court as Prince or Princess, in addition to the junior and senior nominations for King and Queen.
Student voting will take place on Jan. 8 and 9 from 10-2 and 5-6 p.m. in the University Center lobby. "Any organization on campus can nominate someone for homecoming King, Queen, Prince or Princess," said Stacy Stinebuck, president of NKU's Theta Phi Alpha sorority.
At noon on Jan. 14, Spirit Olympics kicks off with a Twister tournament in the UC lounge.
Winners of individual Spirit Olympic events Monday through Thursday will be presented with a spirit stick. After the pep rally Thursday, the organization winning the most contests and events will be given the Overall Spirit Stick. The Spirit Olympics is a brand-new addition to the homecoming festivities, said Quincy Martin, 2002 homecoming committee chairman.
At 8 p.m., APB, Tau Kappa Epsilon, Phi Beta Sigma, and Student Media Services are co-sponsoring a comedy show in Regents Hall, featuring comedians from BET and Comedy Central.
These include Unique, Pat Brown, Dennis Gaxola, Jay Lamont and Tim Murray. Students can attend for $5 and all non-students may purchase tickets for $8. Day two, Jan.15, begins with APB's music video bingo in the UC cafeteria from 11:30 a.m. to 1 p.m. At 5:30 pm another Spirit Olympics event, Bear Hunt, takes place in the Norse Commons cafeteria. Bear Hunt is a secret to all, except those who came up with the idea.
The only hint the homecoming committee would give the students, or The Northerner, is that participants should dress comfortably.
A homecoming committee plans the homecoming events with members selected annually. "Typically representatives from the different offices are on the committee," said Tiffany Mayse, leadership development coordinator.
Representatives from Student Government Association, each Panhellenic organization, Inter-fraternal Council and Activities Programming Board are on the committee.
For more information on event times, a packet of rules and event sign-up, contact or visit the student life office on the bottom floor of the University Center. Or, check out Student Life's homecoming site at www.nku.edu/~homecoming/