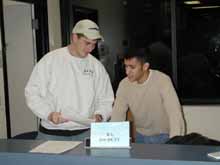 Scott Wartman
Resident Assistants have to balance being a student, leader, policy enforcer and friend with residents in the dorms, and it doesn't always turn out to be the relationship they want.
Joe Zeinner, an RA in Norse Hall, said his residents should realize he's not there just to get them in trouble.
"I'm a student too," he said. "I have to obey the same rules everyone else does."
RAs have long had the reputation of being "narks." But Todd Duncan, director of University Housing said policy enforcement is the last aspect of being an RA.
"The greatest emphasis our RAs work on is building community," he said. "It's important to be able to know and contact residents, and to connect them with each other and the university."
RAs get students involved by creating social and educational programs; programs that aren't always successful. RAs can work three to four hours planning a program, getting approval and spreading the word, only to have just 10 residents show up.
Upperclassmen who live in Norse and Woodcrest are the hardest to get excited and attend programs.
"Norse and Woodcrest upperclassmen have jobs, harder classes and have already found a niche at school. They don't always have time," Zeinner said. "Programs are a lot more successful in the traditional dorms where underclassmen haven't found their niche and are looking to meet more people."
When programs don't work, Zeinner goes back to his residents to find out why, and find out what kind of program they would want to attend.
Most programs fulfill their purpose of educating and bringing out residents. On Nov. 13, RAs planned a program about self-defense for students. Fifteen residents showed up, met new people and learned how to protect themselves in case they were ever attacked.
Rebecca Hensley, a junior organizational studies major, attended the self-defense program for those exact reasons.
"I like to get involved on campus," Hensley said. "I'm interested in programs that let me know what to do in certain situations. Programs about awareness are really important."
After going to school, working for the University and planning programs, RAs still have to balance a relationship between residents and themselves. Some residents complain RAs aren't as approachable as they should be.
Angie Gail, a social work junior, said RAs cling together and don't always branch out to their residents.
"They need to show they are still students," she said. "They all sit together at one table and don't talk to anyone else."
Hensley has had positive relationship with her RA, Dave Braud.
"He'll do anything he can to help my roommates, or me" she said. " I know I can go to him with a problem and he'll keep it confidential."
An RA's duties also include getting information out to residents, working the desk in Norse Commons or Kentucky Hall and working some weekends.