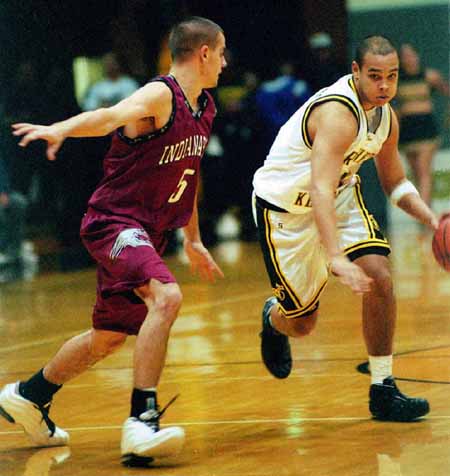 Molly Corfman
The Northern Kentucky University men's basketball team struggled offensively in suffering its first loss of the season last Monday as the Norse lost on the road 67-54 at the hands of the University of Wisconsin-Parkside Rangers.
"We just didn't have a good ball game," NKU head coach Ken Shields said.
NKU was limited to only 38 percent shooting from the field, including making just three of their three-point attempts (3 for 19) in the game, while the Rangers shot 47 percent in the game (61 percent in the second half).
"You have to start your offense at the three-point line," NKU senior Craig Sanders said. "We have to move on our screens. We've been working at it."
The Norse also lost at the De Simone Gymnasium for the third time in four games there, and NKU head coach Ken Shields said it is been tough for his team to win on the road against the Rangers.
"We've had trouble in that gym the last four years. We've been a nemesis there, but they are a vastly improved team," Shields said.
The Norse trailed by only two points at halftime but fell behind by double digits in the second half. NKU did cut the Rangers lead to five with three minutes left in the game. However, Wisconsin-Parkside ended the game on a 10-2 run to secure the victory.
"In the last seven minutes of the game, we relaxed and missed some assignments," said Sanders, who scored 11 points for the Norse. "We were trying to play catch-up on their home floor. You just can't do that."
Shields said that neither team shot well in the first half of the game, but Wisconsin-Parkside really picked it up in the second half. "In the second half, they shot the ball better. Defensively, we were careless."
The Rangers also out-rebounded NKU 41-26 and finished the game with 14 assists to NKU's six.
"We beat ourselves," said Sanders. "We got beat fair and square, but we just have to pick it up from there."
Qunicey Moman led the way for Wisconsin-Parkside with 17 points and nine rebounds. Marlon Grice added 15 points and seven rebounds for the Rangers.
"They're a team that has three seniors," Shields said. "Their other starters, Moman, who is athletic, and (Brian) Maastricht, are juniors and are three-year starters. They do a very good job defending."
The Norse had three players in double figures. Junior Brenden Stowers came away with 17 points for NKU, shooting 5 for 8 from the field. Junior Darnell Fields scored 10 points and grabbed four rebounds off the bench.
Sanders scored in double figures for the 25th consecutive time dating back to last season for the Norse, but in this game, he only made four of his field goal attempts and was 0 for 6 at the three-point line.
"If I would have hit some of my shots, we probably would have won the game," he said. "But this is a brand new team. We have many more games left."
Coach Shields said that his top three shooters had off nights, including Sanders, senior Carl Mitchell (seven points) and junior Bobby St. Preux (two points) and caused his team to stumble.
"They had very much off nights. Sanders was way below normal and had an underachieving game. Other then Brenden's performance, it was frustrating and disappointing," he said.With the defeat, NKU dropped to 4-1 overall and 1-1 in the Great Lakes Valley Conference.