Defense wins games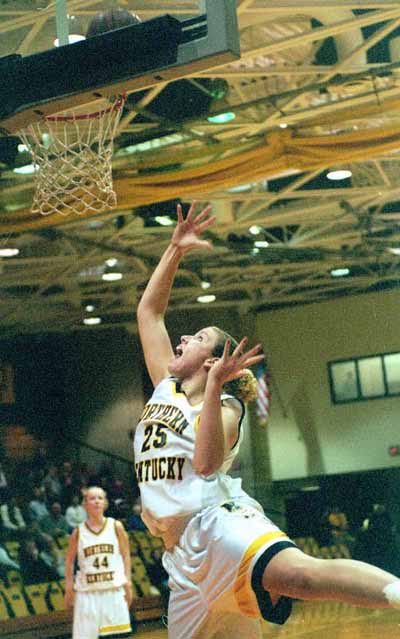 Molly Corfman
The Norse women beat Great Lakes Valley Conference team Indianapolis University Thursday night, 66-53, keeping Indy outside most of the game.
When the Norse women were on their game, they were unstoppable. Indianapolis couldn't penetrate Northern Kentucky University's defense to get to the basket. Nor could Indy stop the Norse offensively.
But, when NKU loses intensity, they turn the ball over and miss easy shots. Trailing NKU 35-27 going into the second half, Indianapolis went on an eight-point scoring run in the first five minutes.
Indianapolis called a time-out with a score of 39-35, NKU. But after the time-out, NKU came out strong, scoring 14 points the next four minutes and allowing Indianapolis to score only two points. NKU's intensity dropped again with about three minutes left, and Indianapolis had already started a run to close the lead to seven points by the last minute of the game.
In the last minute, Junior Amy Mobley twice threw a pass down the floor to senior Michelle Cottrell for an easy lay-up, helping rally the Norse women back to a 13-point lead.
"When we have intensity, we do it well," Coach Winstel said after the game. "But when we don't, we struggle."
Intensity is something Winstel knew her team had to work on, even before the game.
"We just need to keep working on our intensity on defense and our discipline on running our offenses," Winstel said. " We have been turning the ball over entirely too much."
The Norse had 18 turnovers Thursday night.
Cottrell also realizes intensity is something the team needs to work on, and said they have new strategies to get it going during the game.
"When someone has a good play, we make sure we celebrate on the floor," Cottrell said. "The bench is always talking and cheering, and when someone comes in, they are supposed to give her a high five and encouragement."
Cottrell scored 26 points and had 15 rebounds, her 39th career double-double.
Junior Bridget Flanagan also had a good game, scoring 10 points and playing tough defense against Indianapolis' Erin Moran. Flanagan held Moran to only three points in the second half.
Flanagan got in Moran's face, used her arms and wouldn't let her read the plays, Winstel said.
"I just told myself to stay on her and pressure her," Flanagan said.
This past summer, Flanagan spent a lot of time at open gym and playing in leagues. She can tell the improvements.
"I'm just a lot more confident shooting inside," she said.
Mobley scored ten points and helped the Norse with three rebounds. Junior Kristin Polosky contributed six points and seven rebounds to help the Norse win Thursday night.
The Norse women are now 4-0, and 3-0 in the GLVC. The NKU women have beaten Indianapolis University the last 13 times they have faced them and are riding on a 27 home-game winning streak.
They face Kentucky Wesleyan tomorrow evening at 5:30 p.m. in Regents Hall.