8C8's first album gets local airtime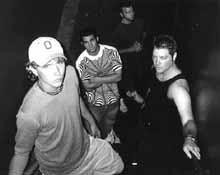 8C8 members, from left, Shane Alford, Joe Daniels, Jeremy Smith and Joe Beck.
Original sound and creative lyrics characterize the first album of local heavy alternative band, 8C8, which released its first album, "Melbourne," on Nov. 23.
The Northern Kentucky band has been together for a year and a half, with the most recent addition, 27-year-old guitarist Joe Beck, joining about eight months ago.
Beck is a 1998 Northern Kentucky University graduate with a degree in Information Systems. He has been a member of other local bands including Glassmoon and Half Inflated Demon Lords.
Beck said his favorite thing about performing with 8C8 is playing its original music and watching the crowd sing back.
"We never played a cover live," said 21-year-old bassist Joe Daniels.
The 21-year-old vocalist Jeremy Smith said, "I don't think famous bands have energy," and added that his favorite thing is the energy playing live.
Channel Z 97.3 FM plays "Hollow," "Relative Words" and "1:43 a.m." which are the top three songs from the "Melbourne" album. The station plays 8C8's music on the program, "Local-Sunday." This show runs every Sunday from 10 p.m. to midnight and plays local bands' songs and other songs that aren't heard often on the radio.
Jason Appleton, 8C8's manager with Opulent Records, said the band's album will be available at all independent record stores and Web sites.
8C8's future plans include booking tours as far as Chicago and Cleveland and to catch the attention of major labels.
To find out about concert tour dates, log on to 8C8's Web site, 8C8band.com.