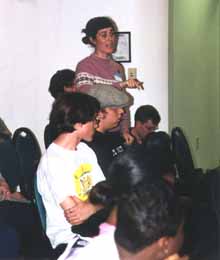 Susan Bartels
The treatment of Middle-Eastern people since the Sept. 11 attacks and the need for more diverse classes and faculty were two of the many racial issues discussed last Thursday at the Campus Dialogue on Race.
This year's forum saw both the largest panel, fifteen people, and largest audience in its four-year history.
Leaders of campus organizations and committees presided on the panel, and were a mix of students and faculty members.
Overall, the hosts of the event, Students Together Against Racism, singled out 11 issues, including the two previously mentioned ones, brought up at the forum that Northern Kentucky University needs to address. At the end of the forum, the master of ceremonies, Anthropology professor JoEllen Burkholder, urged people to sign up for committees that STAR. will form to address these issues.
Students and faculty addressed issues that arose since September 11.
NKU senior Molly Seifert said many facets of the United States' has response to the terrorist attacks have been racist. She cited U.S. authorities detaining people of Middle-Eastern dissent without warrants as an example.
"Where is the line between defense racism?" Seifert asked.
Seifert said this racism has extended to campus where a Muslim student's tires were slashed.
"I'm calling out to all of us. In the name of democracy, we cannot allow this kind of racism on our soil," Seifert said. "So what are we going to do for our Muslim brothers and sisters?If we are committed to the fighting racism, we have to fight against this, and the fight is right here on this campus."
But Middle-Eastern students weren't the only foreign students who felt antagonized. Nanami Aisaka, a NKU student from Japan, told the audience how she felt mistreated by some people.
"I feel they look down upon me," Aisaka said, fighting back tears. "I respect all religions and cultures, and some people dow show me the same respect."
Americans need to become more knowledgeable on other cultures, said Political Science professor Dr. Clinton Hewan, especially on the Muslim culture now after the terrorist attacks.
Hewan suggested reading newspapers from around the world because they give information that American papers can't. Hewan said there should be a more peaceful resolution to the conflict, one that works toward a better understanding on the causes of terrorism.
"I condemn the attack on the basis that all human life is sacred," Hewan said.
Other issues expressed at the forum dealt with topics like the Department of Public Safety's interaction with students. One suggestion to improve community police relations at Northern Kentucky University was posed by Cameron Cochran, a history education major at NKU. He asked panel member Sgt. Mike Nutini if the Department of Public Safety ever considered not carrying guns.
"Sometimes when you have a loaded pistol by your side, that really intimidates people," Cochran said. "A college campus is a wonderful place to start trying to think about public safety that doesn't use firearms."
Nutini responded by saying that, while they will continue to wear guns, DPS only uses violence as a last resort.
"Our first line of defense when we come up on a situation is we try to talk," Nutini said. "We don't go straight from talking to using our weapons, that is not how we operate."
Nutini said all the officers are trained to peacefully resolve many conflicts.
Brandon Hill said the forum was a success in getting people to discuss issues and hopes more people will join the committees that will be formed as a result of the forum.
"It was a productive event and brought many different organizations together," Hill said.
The committees formed in previous years as a result in forums have been very beneficial in instigating change, said Dr. Eric Jackson, interim chairman of the African American Studies program at NKU.
"It establishes a line between administration and students," Jackson said.
In last year's forum, people called for a more diverse curriculum and Jackson said the university focused on adding additional courses that covered different cultures. This fall, Music 107, A Survey of African-American Music is being taught for the first time at NKU.
Also, Alumni Affairs has allocated $75,000 in funds to hiring a more diverse faculty since last years race dialogue, according to a document released by the Student Affairs office regarding the administrations response to last year's dialogue.
Those interested in joining a committee to address certain issues should email STAR at star@nku.edu.