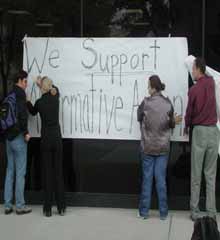 Stacey Sutton
"We support Affirmative Action!" These words rang through Northern Kentucky University's free-speech area during a rally given by several campus organizations last Monday.
"Affirmative Action is one of the tools of remedying a historical injustice," Charleston Wang, Chase College of Law alumna and attorney for the National Conference for Community and Justice, said.
The Sixth District Court of Appeals in Cincinnati was scheduled to hear a University of Michigan Law School case the following day. "This is a history-making case," Wang said.
Jayson Robertson, NCCJ Coordinator, agreed. "If this decision turns the wrong way, it is in the likelihood of taking us back 50 years," he said.
"We have the potential of seeing colleges and universities completely re-segregated," Jody Masley, former UMLS student and member of the their legal defense team said. "Everywhere that this has gone into effect, this has happened, and it has happened immediately."
During the original UMLS case a Caucasian student claimed unlawful preference to minorities in UMLS's admissions. Federal District Court Judge Bernard ruled it unconstitutional to use race as a criteria for admissions.
Anne Braden, long-time social activist and visiting NKU professor referred to the case as "key to the future of Affirmative Action in Michigan, Ohio, Kentucky and Tennessee, which is part of the Sixth Circuit."
"It is in the name of justice that Affirmative Action must be preserved," said Dr. James Votruba, president of NKU, (through a statement read by Dr. Robin Crigler.) "If America is to survive and to prosper in this new century, it must provide opportunities in excess for all."
The Sixth District court rescheduled the hearing from Oct. 23 to Dec. 6, in order to have all nine district court judges hear the case. Speakers encouraged the audience to use the time to sign petitions and tell others of the court case.
Masley sees the extension as "an opportunity to expand nationally. "It is exciting to see young people coming forward on this issue," Braden, age 77, said. "When young people move, this country moves.
" If a whole generation decides that Affirmative Action is alive, it's alive. I hope that your generation will lead a struggle for a new world and in it, incidentally, you'll find the meaning of your own life."
Many speakers compared the movement for Affirmative Action to the Civil Right's Movement. Others focused on human similarities.
"We share one love," Robertson said. "A love that transcends all barriers of hate, gender, segregation and creed."
Two campus groups, Students Together Against Racism and Feminist at Northern joined with off-campus groups NCCJ, Fight for Equality By Any Means Necessary, and Future Leaders Against Racism Everywhere to support UMLS and its fight for Affirmative Action.