'Survivor' Tina Wesson shares experiences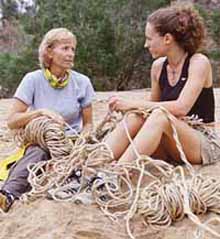 Tina Wesson is a true Survivor. The 41-year-old nurse and mother, said her neighbors could hear her screaming when she got the call saying she would be a contestant on the popular reality-TV show, Survivor 2. Wesson appeared Sunday, Oct. 21 at Oak Hills High School in Bridgetown, to tell of her Survivor experience.
A crowd of nearly 700 gathered to hear Wesson's story. The evening started with a question and answer session hosted by WKRC Channel 12 Survivor special reporter Paula Toti. The question people wanted answered most was what it was like to be on Survivor? Wesson said that it wasn't fun like viewers would imagine. She said that each contestant was given a specific list of items they were allowed to bring. They were allowed no hygiene products and no personal items such as a camera or journal. That meant not brushing her teeth for the entire length of her stay. Wesson said that while dirty teeth were bothersome, the most miserable part of the experience was the starvation. She did not anticipate being so hungry and weak all the time.
She said, " I was thinking, it's CBS! They're not going to let us starve. I thought they would at least throw an apple or banana at us every now and then."
The contestants were not given any food other than what they were able to collect for themselves.
Another member of the audience asked Wesson how she was selected to be a contestant for Survivor. Wesson explained that she was one of 50,000 applicants. She completed an initial interview in Pittsburgh before being called to Los Angeles, CA for the final cuts. Here, she was one of 52 finalists who completed psychological and physical tests and many interviews. Wesson made the cut from 52 to 26 contestants, but was eliminated from the final 16. She went home disappointed, but less than a week later she was asked to join the cast. Another contestant had backed out after hearing that they might be required to sky dive on the show, and Wesson was called upon to take her place. She said she was thrilled. As it ended up, the contestants were never required to sky dive.
The crowd was also interested to hear what the other Survivor contestants have been doing since the end of the show. Wesson said that all but 3 or 4 of them still keep in touch. She noted that Rodger Bingham, a Kentucky resident, will soon be a grandfather, Colby is working on a movie career, Elisabeth is still happily engaged to be married, and that Mitchell is touring a "very funny" stand-up comedy routine.
The final question of the night asked Wesson if she thought she was going to be the winner, and how she was able to win the game
She said after the completion of taping of the show the contestants had to wait close to five months before the announcement of the winner. She thought that Colby deserved to be the winner, and said she never really thought about winning herself.
"When they pulled out my name I about died," Wesson said.
The winning strategy, she said, consisted of luck, strategy, and strong relational ties with other tribe members.
Since winning the million-dollar prize Wesson has been busy with endorsements and public appearances. She said she is only home five days out of each month. She said it's hard to be gone from home so much, but she is enjoying it because she knows that her fame can only last so long. Wesson is using her popularity as an opportunity to share her testimony with others.
Wesson was able to overcome a traumatic early childhood when she was adopted at the age of 2 in to a Christian home.
She attended church weekly, but always thought of it just as a place to go on Sundays. She said that she was 16 when she realized that there was more to it than this, and it was then that her relationship with God took prominence in her life. She believes that God has a plan for each person's life and wants to share this message with the world.
Wesson said, "I believe that everything in my past has led me to this moment."
She feels that winning Survivor was in God's plan for her life and it has given her a platform to tell others of the love of God.
She said, " No matter what you do to a $100 bill, it's still valuable. God sees people the same way."
At the conclusion of her testimony the audience was able to meet Wesson and to talk with her.