New chef freshens campus soup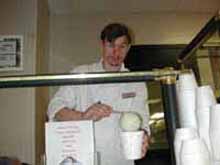 Scott Wartman
With a ladle as his scepter and a ball cap as his crown, Northern Kentucky University's new chef reigns "soup"reme in the cafeteria.
Mark Schiffmeyer has managed the University Center kitchen for less than a month, but students and faculty have taken notice. The potato soup is awesome, James Proffitt, senior, said.
Schiffmeyer explained that fresh vegetables, different soup bases and heavy whipping cream are some of the ingredients used to improve the flavors.
"I don't use canned soup," Schiffmeyer said.
Many of the cafeteria regulars have noticed the fresh ingredients.
"I can see a difference [in the soup,]" Jamie Juspasic, an information technology staff member said, "I prefer the chili, but the roasted chicken is great."
Schiffmeyer welcomes the one problem he has. "I'm running out of soup," he said
The cafeteria will continue to serve chili every day with one other soup choice, Possible choices include cream of broccoli, roasted chicken and noodles, barley mushroom or tomato basil.
"Suggestions are always welcome," Jenny Degaro, UC operations manager, said. "Just tell us."
If it is too far to walk to the cafeteria, the Movable Feast located in the library also serves Schiffmeyer's soups. Schiffmeyer trained under chefs at the University of Virginia. "I'm wiser because of the on-hand experience," he said.
He's worked as a chef for the past eight years, having worked most recently at the College of Mount Saint Joseph.
In addition to the changes in the soup, Schiffmeyer also combined and moved the breakfast items to one area and added new recipes to the hot line menu.