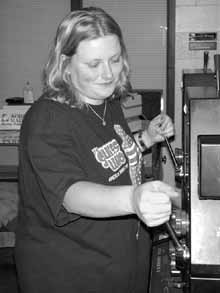 Stacey Sutton
Fluid Power Lab. Does that sound like a course offered on the Northern Kentucky University campus?
You're right, it's not.
But it's the favorite class of Scott Mullis, a freshman this year at the Northern Kentucky Technical College Highland Heights Campus. He is aiming for an Associates degree in industrial maintenance technology.
Mullis is actually a former business major at Northern Kentucky University. "I changed over to the tech college because it offers hands-on training. It suits me and my learning personality better. It was just a good fit," Mullis said.
Mullis plans on working in a field where he can practice heating and air conditioning and technical maintenance skills. "Industrialized maintenance in a necessity in any business or establishment. Northern Kentucky Tech is giving me the practical education I need to perform job duties I have in mind for the future." Mullis said.
Kentucky Community and Technical College System began in 1997 with the Postsecondary Education Improvement Act. This created 15 technical colleges throughout the state offering training for industries and business, and certification programs for various fields, according to the KCTCS Web site.
Students can receive training and education in 26 different programs ranging from automotive technology to child development services to graphic communications. NKTC is accredited by the Council on Occupational Educational Institutions.
In Northern Kentucky, campuses are established in Covington, Edgewood and Highland Heights.
"It' s all about fit. If your goals and educational endeavors are to get training, to get out fast, and to get a job quick, Northern Kentucky Technical College can offer that," said Mae Keszei, admissions and public relations coordinator. " Students hit the ground running taking courses related to their job interests within their first semester."
Although NKTC and NKU share many similarities, they are diverse as well. At NKTC students bypass general studies courses and begin studying and training in their area of interest in their primary semester. Most programs graduate students within two years.
Classes at the technical college tend to have more lab and on-the-job training work associated with them. "A student studying graphic design at NKTC is able to come in and get out in two years with a portfolio full of work and projects, as well as internships under his or her belt," Keszei said. She added that some students go to the technical college and then receive further training, often at NKU, if they decide they want a bachelor's degree. Mullis is one such student. But for now, he wants classes that teach job skills. NKTC "was just a good fit," Mullis said.