SGA awards the outstanding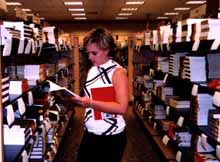 Cheryl Ritchie
Three book scholarships for the Spring 2002 semester will be awarded later this semester by the Student Government Association to students with outstanding leadership skills and community service.
Each prize will consist of a $200 gift certificate for book purchases in the Northern Kentucky University campus bookstore.
"We really want to reward students who give a lot to NKU and who also give to the community," said Leslie Dorris, SGA executive vice president.
Any NKU student who is not a member of SGA can apply as long as they have a GPA of 2.75. Being a member of campus or community organizations will show the leadership skills the SGA is looking for.
"We're looking for someone who is a well-rounded student and who is involved in their major or university to some capacity," Katie Herschede, SGA president, said.
Students have to submit an application, essay and a resume to the SGA office in the University Center room 208 no later than November 1. Recipients will be notified of the award by December 1st.
The essay has a one-page response about the following topics: When you look back on your college career, what organizational involvement will have defined you the most? Why do you feel that it is important to be involved in the campus and community to build your personal traits and leadership skills?
The members of SGA executive team who will be judging the applicants are: Katie Herschede, President; Leslie Dorris, Executive Vice President; Misty Denman, Vice President of Public Relation; Latoya Chambers, Vice President of Academics and Students Affair and Dave Caddell, Vice President of Administrative Affairs.
Additionally, a couple of senators and committee chairs will round out the team.
The SGA made this all possible by taking a percentage of the poster sale proceeds the first three days of school.
That 10 percent cut totaled $600, which is being given back to the students in the form of book scholarships.
Herschede said, "We're really glad that we can give back to students who truly need it and who have demonstrated that they're leaders in every since of the word."
For more information contact Leslie Dorris at (859) 572-6411 or stop by the SGA office.