NKU alumni survive Sept.11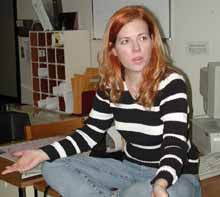 While America and the world watched the tragic events unfold in front of their eyes, staff members at the Cable News Network (CNN) were gathered around television sets as well.
Jillian St. Charles, a Northern Kentucky University (NKU) alumna, was in a parking garage when the first plane hit.
"It never entered my mind someone did that on purpose," she said.
St. Charles is a producer for "TalkBack Live", a daily news talk show. She graduated from NKU in 1996 with a degree in journalism. She is also a former Northerner staff member.
When the plane hit the Pentagon, the "TalkBack" staff was reading everything coming off the news wire. From that moment on, the CNN staff went to work on what St. Charles described as a "much more demanding schedule". The attitude at CNN was similar to places all across America, she said, but there was a little something more.
"There was very much a feeling of needing to get our jobs done and tell the story well. But the emotional toll was surely real," St. Charles said.
Anna Weaver, also an NKU alumna and CNN employee, decided to go in to work on her day off to help out. Now a video journalist at CNN, she graduated from NKU in Dec. 2000 with a degree in journalism.
After the planes hit, Weaver was trying to get hold of her family in New York City. After the initial shock wore off, Weaver reported in to work.
"I decided that there was no where else besides CNN that I wanted to be that day," Weaver said.
In the days following the attacks, the CNN building was closed to everyone but its staff and even some businesses on the lower floors had to close. Security has been stepped up also. Currently, staff members' bags are being searched, there are more security guards and there's even been an evacuation drill.
Not only have there been changes in security procedures, but also in the staff as well. Since the attack, staff members have been working 12 hours a day, six days a week. Their feelings were similar to feelings all across America.
"I think working here is a mixed blessing emotionally," St. Charles said. There's a constant flow of information, so the staff knows exactly what's going on. However, she said, there are all sorts of bad news and terrible images coming at you constantly.
The attacks have affected America, but also the way news is reported.
"I think the TV industry also realized the value of international coverage," Weaver said. She also went on to add that CNN was among the first networks to report from Afghanistan. This coverage will be especially important in the times ahead.
"CNN now has to find a way to serve the public with information, ensure its accuracy, avoid jeopardizing military strategy and deal sensitively with a subject that has created so much fear and grief," St. Charles said. "We want to keep the public informed, without unnecessarily increasing either fear or grief."