Lady Norse chalk up two more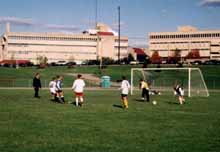 After adding two more wins to the women's soccer team's record, the lady Norse still remain No. 1 in the NCAA Division II national poll.
The lady Norse defeated Southern Indiana University Edwardsville Friday, Oct. 12 at Town and Country in Wilder.
The Norse won 4-0 unlike last year when they tied SIUE 1-1. After the Norse defeated SIUE, they extended their winning streak with their eighth win over Quincy with a score of 7-1.
In the first half of Friday's game, the Norse were ahead and they continued strongly into the second half.
One of the team's top scorers this year is senior Betsy Moore who contributed a second half goal as well as three assists throughout the game.
Junior midfielder Kendra Zinser said, "Betsy has some great moves on the offensive end. She has quick feet and is able to dribble the ball around many defenders."
One of the team's other top scorers, junior Bessie Black, chalked up three more goals for the Norse as well.
The goal scored by Quincy in the first half would be the only goal given up by the Norse defenders, who kept the ball on their offensive end the majority of the second half.
If the team is able to maintain this high caliber of play for the remainder of the season, they could go into the Great Lakes Valley Conference League Tournament undefeated.
This will be a great accomplishment for the team, which last year entered the tournament with only one loss.
"If we can continue to score goals and dominate the game with the ball on our offensive end, we should go into the tournament undefeated," said Zinser.
Key offensive players for the Norse this season are Moore with 10 goals and Black with 17 goals. Not to be left out are midfield players Zinser, Kristen Noakes, Jeanne Martin and dominant center-mid Tricia Ruark, who have all contributed a great deal to finishing the ball as well playing hard defense this season.
"Our accomplishments have been a team effort. There are no 'superstars' on the team this year. If it weren't for all 11 players on the field contributing, then we wouldn't be undefeated," said Zinser.
The lady Norse hope to receive a high bid in the NCAA Tournament. The Norse's bid will determine who they play and whether or not they receive a bye in the first round.
"We're right on track for a national championship," said Ruark, "but we must first focus on the game at hand, taking them one at a time."
It is not going to be easy, however, because now that NKU is at the top, the pressure is on to remain at the top.