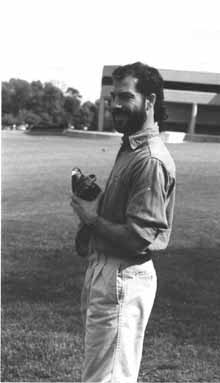 Susan Bartels
A rescue mission took place at Northern Kentucky University the week of Sept. 24. It didn't involve police, fire personnel or heavy equipment. What it did involve was time, nurturing and a respect for the smaller creatures of the world.
In a joint effort between employees of the physical plant and a faculty member of the biology department, a racing pigeon, also known as a homing pigeon, was restored to health and returned to its rightful place in the sky.
Early one morning, Bob Riffe and Don Duwel, both locksmiths with the physical plant, noticed a pigeon outside the University Center. What stood out to Duwel was a leg band. He knew it was no ordinary pigeon.
A series of calls led Duwel to Dr. Tom Sproat, associate professor of biology, who was experienced in ornithology (the study of birds) and wildlife rehabilitation.
When Sproat saw the bird, he noticed it was thin, dehydrated and couldn't fly well. Sproat took the bird to his office where it was given food and water and watched for signs of injury.
A call was placed to a Pigeon Racing Association found on the Internet. A secretary at the association was able to locate the owner of the bird by the number on the leg band.
Sproat said the owners, who live in Lisbon, Ohio, would not be traveling to claim the bird. The pigeon had been released for a race and didn't make it back home. If it couldn't do that, there was no point in reclaiming it.
Sproat, who for seven days nurtured the pigeon back to health, said it was possible the bird could live in the wild on its own. "The bird has its own natural instinct, to a certain extent, to go out and find food," said Sproat.
A potential problem for the bird could be that it has lost its instinct to keep itself away from predators. Sproat said, "there's no telling how much innate or instinctive behavior will come about in the bird. It could do just fine."
According to Sproat, homing pigeons have microscopic iron molecules in their skull that act as a compass, so it was possible the pigeon could find its way back to Lisbon.
The risk is that if the bird finds a reliable food source on the way, it would keep that as its home.
On Sept. 28, after being as sure as possible that the bird was ready, Sproat, accompanied by Duwel and Riffe, took the pigeon to the banks of Lake Inferior and set it free.
"She took one half circle, got her bearings and off she went," said Sproat. Duwel noticed the bird headed in the direction of Lisbon.
As of Oct. 4, there had been no word from the owners and no one had seen the bird back on campus.
"It's a mixed emotion," said Sproat about the rehabilitation and setting free process. "This is what you've been working for