Delta takes flight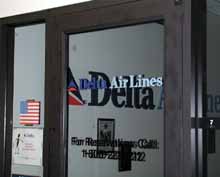 Scott Wartman
Delta Air Lines has closed all three of its university call centers, including its offices in the Lucas Administration Center.
Around 11 a.m. on Friday, Oct. 5, NKU student employees of Delta were told they would no longer have a job. A total of 127 students were laid off from Delta's NKU office. Call centers at Clayton State College in Atlanta and Weber State University in Salt Lake City also were closed; 322 student employees were laid off there.
"The events of Sept. 11 had a cataclysmic effect on the airlines," said Cindi Kurczewski, Delta spokeswoman in Atlanta. She said decreased ticket sales have led to decreased flights. Schedule cutbacks were made, and more will come.
According to Kurczewski, Delta has identified the need to cut 13,000 employees overall.
Nikki Kramer, a senior art education major, said she had no warning this was going to happen.
"I have a little boy at home, and I don't have a job," she said.
Michael Meiners, a senior graphic arts major who has worked at Delta for a year, said he is disappointed even though he considered this a temporary job.
He said he has four friends who have been looking for a job since the first of the semester.
He plans to start looking right away.
"I'm worried about paying tuition and buying school supplies," he added.
Kurczewski said she could not speculate on the reopening of any of the university call centers.
At NKU, the Career Development Center quickly made up a flyers to distribute to laid-off employees. Bill Lamb, Employer Relations Coordinator, said the center "will use all our resources to help students find jobs."
Lamb said the center receives several off-campus job listings a day. He said the financial aid office will share on-campus job openings with the center as well.
As of December, Delta would have been on campus for five years.
When questioned about the layoffs, most of the employees interviewed would not comment.
Most said it was too emotional.
University President Dr. James Votruba unavailable for comment, according to his secretary.