Male athlete of the week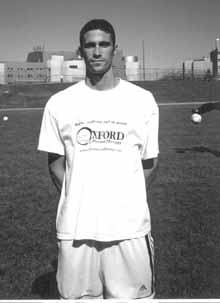 Northern Kentucky University's Kevin Crone, a 6-foot-3-inch senior from Hebron, is the Northerner Male Athlete of the Week. Crone, a defensive midfielder on the men's soccer team, scored NKU's only goal in the 2-1 loss to No. 1 Lewis University Oct. 7. Crone also scored a pair of goals in the 5-0 win over Saint Joseph's College Sept. 30.
"Kevin has been a captain and a solid defender for us, not to mention one of our leading scorers," said coach John Toebben. "He's been very valuable to the team all year."
Crone has four goals in 15 games so far this season, making him second on the team. He has helped lead the Norse to an overall record of 8-7 and a 5-3 record in the GLVC. Crone is also a two-time NKU Defensive Player of the Year recipient.
"It is a great honor to be chosen as the Athlete of the Week," said Crone. "I didn't even know we had [athletes of the week] here, but I'm very honored to be selected for it."