Successful entrepreneur and creator of the infamous cupcake crossbones apparel, Johnny Cupcakes shared his success story and wisdom with fans, students and hopeful business owners March 26 in the Eva G. Farris Auditorium.
Since his last visit in 2009, Johnny Earle has opened two more stores, one in Martha's Vineyard, Mass. and another in London, UK, totaling five stores in all. Other than the new stores and nabbing a girlfriend, not much has changed for Johnny Cupcakes. The company is still growing and people continue to purchase his broadening brand of paraphernalia.
"My way is not the right way, it's just how I chose to run my business," Earle said. "Everything in the world has been done before, so it's how you reinvent yourself."
CompleteSet hosted the event. Co-founder of CompleteSet Jaime Rump, a computer science senior, and Gary Darna, 2010 NKU graduate, explained that Johnny Cupcakes was the company's first connection.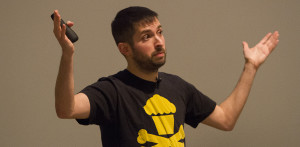 "Our website is for collectors and Johnny Cupcakes was the first branch we launched with," Rump said.
"Everytime I wear one of the shirts, something happens," Darna said. "Johnny's message has inspired people around the world to pursue their dreams."
In a way, traffic congestion is to blame for Earle's success. Earle's parents enjoyed their work, but hated the commute from home to work. Spending a lot of time with the neighbors growing up, Earle made a promise to himself: one day he would work for himself, doing something he enjoyed, so he could spend quality time with loved ones. Dabbling in lemonade stands, neighborhood snow shoveling businesses, creating yearbooks, performing magic tricks and selling wholesale pranks were all part of his journey as an entrepreneur was born.
In 2001, when the Johnny Cupcakes logo was first designed, Earle was working at a record store and touring with a band. Strangers off the street would ask about the logo.
"No one was putting food on T-shirts in 2001," Earle said. "It made strangers smile."
Paying attention to this small detail, Earle went on to create a business, which he named after a nickname received at the record store, known for the experience rather than the purchase. From the box the shirt comes in to the oven-mitt label, the food theme flows from the online shop to the stores. Earle pointed out that his company could save $100,000 in a year if the company would just use the free UPS/FedEx packaging.
"I don't want to lose track of the experience…My main goal as a brand leader is making sure people have a fun, memorable experience through every aspect of the brand," Earle explained.
Ashley Schilffarth, a senior history major, admires Earle's brand and creativity.
"It is impressive that one man started his own company with such a simple idea," she said.
Earle's journey with Johnny Cupcakes hasn't been all success, mistakes have been made along the way.
"Sometimes when you rush into things you don't realize the repercussions," he warned.
Continuing to mock pop culture, Earle thought it would be a good idea to copy the "Got Milk?" ads, but with icing instead of milk. The icing resembled that of something else and the campaign was quickly suspended. Earle took it in stride.
Wall Street Journal and Businessweek have both mentioned the Johnny Cupcakes business model and Earle's entrepreneur genius, but not once did Earle mention his desire to be wealthy. Instead he emphasizes the importance of hard work.
"It's not about the money. It's about being happy and doing what you love," Earle explained. "Luck has nothing to do with it. Stop making excuses and start making stuff."